The most interesting event calendar around!
Looking for fun things to do this weekend? You've come to the right place!
Avengers Night at the Cradle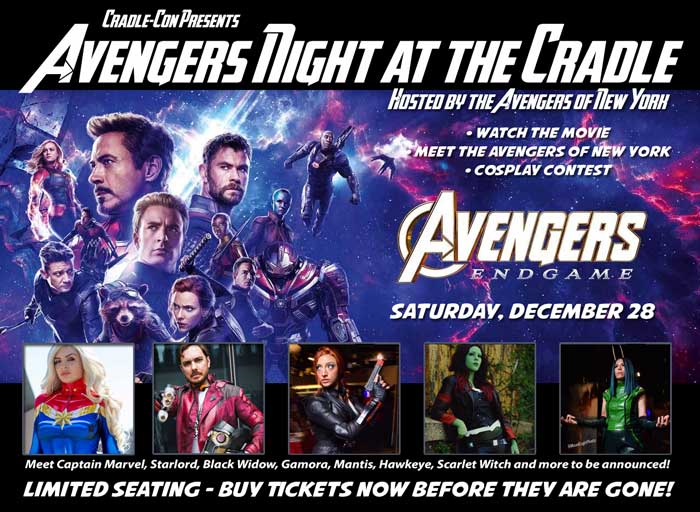 Cradle-Con Presents
Avengers Night at the Cradle!
Hosted by the NY Avengers
Saturday, December 28, 2019
Come watch Avengers Endgame in our dome theater* and geek-out with the NY Avengers! From 6-8 pm meet and take pictures with some of your favorite Avengers, meet our very own Super Hero: Captain Cradle and get a signed print of new artwork by artist James Avila. Come in costume for a quick cosplay contest and a chance to win free tickets** to Cradle-Con!
There will be two showings with Cosplay/Artist Meet & Greet in between:
Early 3:00-8:00 pm (3:00-6:00 Movie, 6:00-8:00 Meet & Greet) BUY TICKETS
Late 6:00-11:00 pm (6:00-8:00 Meet & Greet, 8:00-11:00 Movie) BUY TICKETS
Tickets are $12 in advance, $15 at the door if available. Seating is limited!
Avengers End Game at 3:00 pm or 8:00 pm
Meet & Greet with the NY Avengers 6:00-8:00 pm
Meet Captain Cradle - Cradle-Con's very own Super Hero
Get a Free signed print of Captain Cradle and Meet Artist James Avila
Cosplay Contest for both Shows - Winners receive free tickets to Cradle-Con!
About Cradle-Con - May 30-31, 2020
Cradle-Con was founded in 2018 to raise funds for the Cradle of Aviation Museum's education and preservation programs. Cradle-Con is a celebration of all things comic book culture. It is a new opportunity for readers to meet and greet local comic book creators, for collectors on the hunt for rare and elusive comic books and toys, and for cosplayers to show off some of their best work. This is a spectacular new, more intimate experience for fans of all ages to gather, socialize, and be passionate about what they love. Visit
http://www.cradlecon.com/
for more info.
About The NY Avengers
The Avengers of New York is a non profit organization created by a group of Marvel inspired cosplayers for charity events and hospital visits. Find them on Instagram @nyavengers
*Movie shown in regular format.
**Children 12 and under, cosplay winners will get a Cradle-Con Sunday ticket, over 12 will get a Saturday Ticket. Cradle-Con is May 30-31, 2020.