The most interesting event calendar around!
---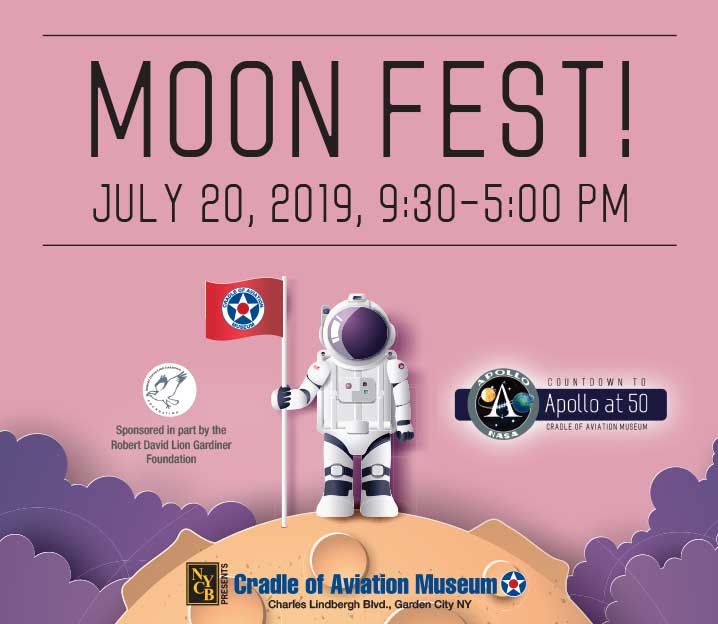 On July 20, 1969 over 600 million people watched Neil Armstrong take the first steps on the moon. It is considered one of the greatest human and technological achievements in history. On Saturday, July 20, 2019, thousands of people will be joining together at the Cradle of Aviation Museum to celebrate the 50th anniversary of the historic Apollo 11 mission. The Cradle of Aviation, home of the Lunar Module, is celebrating all day and night with two festive events to give the community an opportunity to learn, reflect, remember, & jointly celebrate, all the wonder, achievement, and pride that is Apollo.
"If you're planning on celebrating the 50th Anniversary of the Apollo 11 moon landing there is only one place you should be…and that's the Cradle. Fun for the whole family celebrating the most important event in our history."
- Andrew Parton, President, Cradle of Aviation Museum
---
APOLLO AT 50 MOON FEST
Tickets $20 Adults; $15 Kids (2-12)
A fun, family-friendly festival includes
> COMMUNITY COUNTDOWN TO LUNAR LANDING
Join in a Community Countdown at 4:17 pm to collectively watch, re-experience, and honor as a community, the historic "The Eagle has Landed" Lunar Module landing on the moon.
> ASTRONAUT ENCOUNTERS
Meet Space Shuttle Astronauts Bill Shepherd (Babylon) and Charlie Carmada (Ozone Park), both from Long Island, and Bob Cenker.
> MOON BUGGY RACES
Traverse a lunar obstacle course driving an electric lunar rover. (kids)
> VIRTUAL REALITY
Explore the inside and outside of the Apollo 11 up close and personal with Microsoft's Mixed Reality and the Microsoft HoloLens technology.
> APOLLO 11 FIRST STEPS in IMAX
Experience a free showing of the new highly-acclaimed documentary, Apollo 11 First Steps Edition in our immersive Dome Theater. Playing hourly.
> SOLAR TELESCOPES
Explore the sun with a special-purpose solar telescope. (Weather permitting)
> LAUNCH ROCKETS
Build, decorate, then launch a water bottle rocket.
> ROBOTICS DEMONSTRATIONS
View and interact with student-built robotics from the First Lego League.
> VISITS FROM THE UNIVERSE
The not-for-profit, NY Avengers Cosplay Group is assembling at the Cradle to celebrate the American heroes who contributed to the successful lunar landing.
> ALL-INCLUSIVE ADMISSION
Includes admission to all museum exhibits and Apollo 11 IMAX film.
> MAKE & TAKE CRAFT ACTIVITIES
Complete six different make and take Apollo themed crafts.
The museum opens at 9:30 am.
Make & Take Craft activities from 10 am
Moon Fest featured activities from 12 pm
Moon landing countdown begins at 4 pm!
Reserve your spot and buy your ticket today!
---
---