The most interesting event calendar around!
Flight 1017 Long Island Tattoo Convention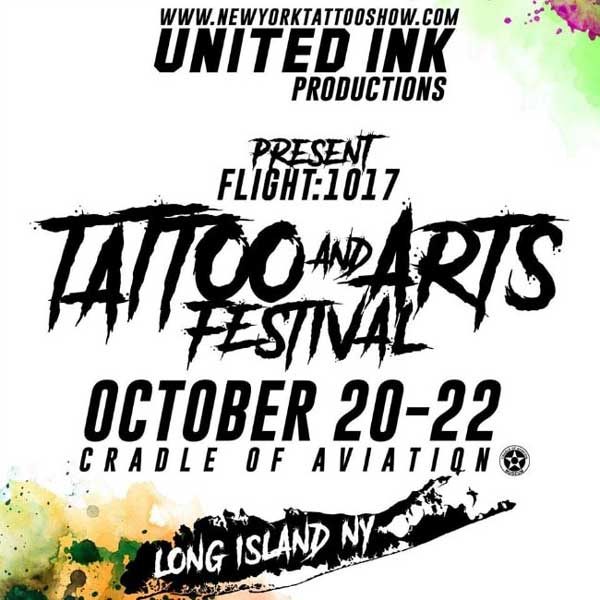 Show & Museum Hours:
Friday 2pm-11pm
Saturday 12pm-11pm
Sunday 12pm-8pm
Admission:
Adults $25, Children (2-12) $12.00
Museum Members: $17/$7
Weekend Pass $60
There is an online fee of $2.00 per ticket added to your purchase.
Tickets may be also be purchased in advance at our box office (without fees).
Parking is Free.
---
You can buy a weekend pass at any of the links above.
---
Ticket includes admission to the tattoo festival, art exhibits and museum galleries. Please note, some museum exhibits will be obstructed by the artists and tattoo vendors. Due to the nature of the show PARENTAL DISCRETION IS ADVISED.
Welcome To The Flight 1017 Tattoo Convention In Long Island NY
If you're into tattoo conventions, the Flight 1017 has everything in a tattoo show that you're looking for. Our Tattoo Expo features world famous tattoo artists, live entertainment, music and much more. The location of our tattoo convention in Long Island is to be announced later this year!
One of the greatest things about our Flight Tattoo shows is the availability of tattoo artists attending the show. The Long Island Tattoo Convention showcases over 250 world famous artists and vendors. Thousands of people gather at our tattoo convention to meet their favorite artists. Many of our tattoo artists have large followings and have tattooed world famous celebrities.
Flight 1017 Tattoo Convention will be held from October 20th thru October 22nd at the Cradle of Aviation Museum in Garden City, NY. There will be over 250 world famous tattoo artists and 30+ vendors and tattoo suppliers offering shop necessities and merchandise. All ages welcome.
Those interested in exhibiting or sponsorship opportunities can contact our offices by e-mail: booking@newyorktattooshow.com or by phone: 631.584.3858
For Celebrity and Media Inquiries – Contact Jackie@newyorktattooshow.com