The most interesting event calendar around!
United Ink Flight 816 New York Tattoo and Arts Festival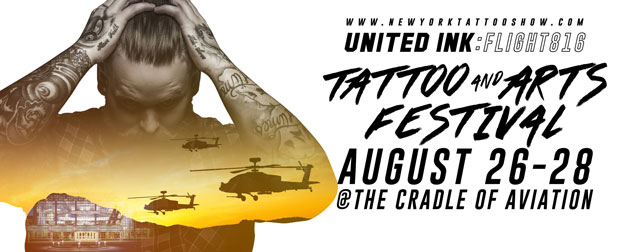 Show & Museum Hours:
Friday 2pm-11pm, Saturday 12pm-11pm, Sunday 12pm-7pm
Admission:
Adults $25, Children (2-12) $12.00
Museum Members: $17/$7
Weekend Pass $60
Parking is Free.
Ticket includes admission to the tattoo festival, art exhibits and museum galleries. Please note, some museum exhibits will be obstructed by the artists and tattoo vendors. Due to the nature of the show PARENTAL DISCRETION IS ADVISED.
From Friday, August 26th through Sunday, August 28th (Friday 2-11pm, Saturday 12-11pm, Sunday 12-7pm), join international artists from Russia, China, Portugal, Italy, France, the UK and more alongside thousands of art and tattoo enthusiasts as World Famous Ink presents the International United Ink Flight 816 Tattoo and Arts Festival at the Cradle of Aviation Museum, Charles Lindbergh Blvd, Garden City, NY.
Browse through 150 booths and meet 250 of the world's best tattoo artists. Tattoo Lou and Jackie Rubino have personally traveled the world to find the cream of the crop to bring back to Long Island for this incredible event. Tattoos have become more than a passing fad over the past decade and have worked their way into the mainstream, finally being recognized as the art form they are.
Experience tattoo culture with a new and totally unique perception, as United Ink is unlike any other tattoo convention you've seen before! Completely open to the public and all ages, the expo is a perfect day for tattoo and art loving families who want to mingle with internationally famous artists, reality tv stars, tattoo collectors, tattoo models, and more! Enjoy watching the world's best artists pierce and tattoo, experience our curated art gallery, and watch live art shows from internationally famous artists in all different mediums. If you're in the market for new ink, piercings, apparel, or just a full weekend of fun- this is the place to be!
There's plenty for the kids to do, too! A play area includes your little ones in the fun from creating their own masterpieces to getting their own temporary tattoos. The best part? Kids from 2 – 12 years of age enter the convention for half price and this includes full access to the museum. College students: bring your student ID's to get deep discounts on your tickets!
YES you can get your own tattoo or piercing RIGHT THERE ON THE SPOT! Don't forget to enter your tattoo - fresh or healed- in the many tattoo contests and win a range of prizes including free laser tattoo removal, trophies for your artist, and more. Don't forget to visit the jewelry and apparel booths and get dolled up to enter the Ms. Vixen Pin-Up Contest hosted by Laura Lynn, for a chance to be featured in an international magazine. Even if you don't enter any contests, be prepared to be stopped by internationally famous tattoo publications like Inked Magazine to have your photo taken!
PLUS don't miss our special tattoo reality show celebrities! Scheduled to be at this show are many of the current and former Ink Masters like Halo, Lydia Bruno, Aaron Is, Chris Blinston, Halo and Sarah Miller. Meet and be entertained by our emcee' from Spike TV's Tattoo Rescue's own Joey Tattoo. The best deal is to pick up a weekend pass and come in on Friday to browse the artists' portfolios and participate in the fun as it begins.
Those interested in exhibiting or sponsorship opportunities can contact our offices by e-mail: booking@newyorktattooshow.com or by phone: 631.584.3858
For Celebrity and Media Inquiries – Contact Jackie@newyorktattooshow.com