The most interesting event calendar around!
Looking for fun things to do this weekend? You've come to the right place!
Laced Up - The Long Island Sneaker Convention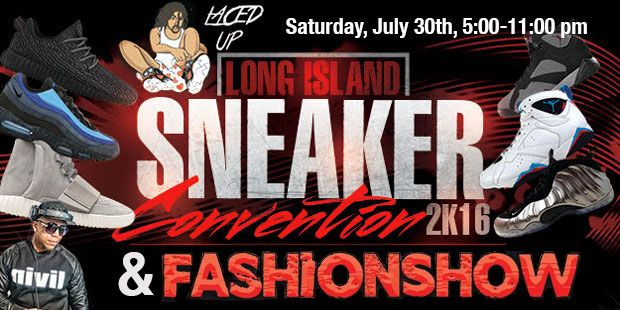 Laced Up - The Long Island Sneaker Convention & Fashion Show
The sneaker culture has evolved tremendously in the past 10 years. Now-a-days sneakers can be looked at in more ways than one. Sneakers have become a way of life for some, a way of expressing yourself through fashion, and a means of income for others.
Come check out the premiere of Laced Up – The Long Island Sneaker Convention with over 25+ vendors from collectors to local businesses. Sneaker enthusiasts can buy, sell, restore, trade and customize kicks plus much more! Exclusive raffles for rare sneakers will be held the day of the event, along with auctions for sneakers, battles and the best custom sneaker competition; all to the sounds of DJ Scoota!!
Experience the sneaker culture at its finest!
Ticket prices are $15.00 online and $20.00 at the door the day of the event. Children (2-12) are $12.00 at the door or online.
Museum Members are $10 for adults, $6 for children (member tickets must be purchased in person at the box office).
Vendors and collectors interested in exhibiting please contact Kentrez Frye at 516-234-4140
We've added a Fashion Show - ask about entering your line!
--
Thank you for your support!
Proceeds from this event help to fund our preservation and education programs.