World War One U.S. Centennial, 1917-2017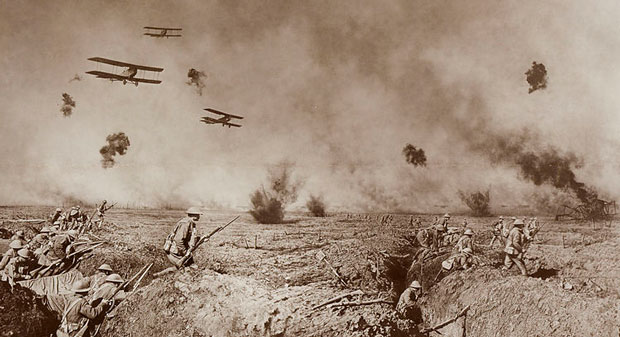 THE FIRST AIR WAR
In commemoration of the Centennial of the U.S. entry into World War One, the Cradle of Aviation Museum presented this special exhibit on World War One aviation that ran through Labor Day 2017.
When the world went to war in 1914, the Wright Brothers had only made the world's first powered flight little over a decade before. But the remarkable advances made in aviation during World War One are still at the core of air power today.
The exhibit contains three distinct sections:
FOKKER DVII - main gallery entrance The second will exhibit a German Fokker DVII aircraft the Cradle is currently restoring. A highly accurate full-size reproduction incorporating some original components, the aircraft will be shown without skin, so the interior workings of the machine are readily understood. This type of aircraft were the first fighters stationed at Mitchel Field in the years immediately following World War One.
THE FIRST AIR WAR - inside main gallery entrance The third will consist of a series of remarkable photos of First War aviators and their aircraft. These rare photos, with historic commentary, reveal the frail nature of early war planes and their brave dedicated pilots willing to take to the air in machines made of wood and cloth.
THE WW1 AVIATION ART OF JAMES DIETZ - atrium The first part of the exhibit will consist of a series of 50 wonderful artworks by noted aviation artist James Dietz. Entitled 'Wood and Canvas' each meticulously researched and illustrated artwork tells a story that conveys emotional power as well as historical accuracy. These one-of-a-kind artworks were created using the 'Fox Box' printing technique that replicates brushstrokes and layered ink on canvas duplicating the originals now permanently on exhibit in New Zealand.