Long Island's Air and Space Museum
Preserving Long Island's rich aerospace heritage of discovery and inspiring future generations through science and technology.
An Evening with Space Shuttle Astronaut Jim Wetherbee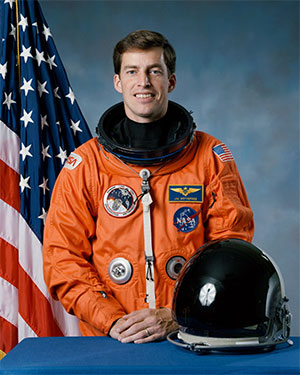 LEGENDS OF AIR AND SPACE LECTURE SERIES
An Evening with Space Shuttle Astronaut Jim Wetherbee
The Cradle of Aviation Museum and Education Center is honored to have space shuttle Astronaut and Huntington native, Jim Wetherbee as a guest speaker. Earlier in the day at a luncheon at the Cradle, Mr. Wetherbee will be inducted into the Cradle's Long Island Air and Space Hall of Fame. Mr. Wetherbee is a Long islander, having grown up in Huntington Station and attended Holy Family Diocesan High School. He graduated from the University of Notre Dame with a B.S. in Aerospace Engineering.
Mr. Wetherbee received his commission from the U.S. Navy, became a naval aviator and flew A-7Es aboard the USS John F. Kennedy and logged 125 night landings. He was a test pilot for the F/A-18 Hornet and flew operationally from January 1984 until his selection into the astronaut candidate program in 1985. He is a veteran of six space flights and is the first American to command five space missions. He flew Columbia twice and volunteered to head the recovery team of Columbia when it crashed in February 2003. He left NASA in January 2005. Jim was a safety Auditor for BP until his retirement last year.
Admission: $10, $8 for Museum Members
Seating is limited and reservations are required.
---
Hours
Open Tuesday-Sunday, 9:30-5:00
Open Mondays that fall on Holidays
Summer Hours
Beginning Monday July 3, we are open 7 days per week through Sept. 4.
Admission Rates
Museum
Adult $15
Child/Senior* $13
Museum includes aviation museum galleries and Junior Jet Club
Planetarium & Dome Theater Shows
Adult $9
Child/Senior* $8
Museum and Show Combo
Adult $20
Child/Senior* $18
Combo includes the museum and a single Planetarium or Dome Theater show.
*Children ages 2-12, Senior Citizens 62+, Military Personnel, Volunteer Firemen & Non-Ambulatory Visitors
Other Options
Junior Jet Club $2.50
Nunley's Carousel $2
Cradle of Aviation Museum
Charles Lindbergh Blvd.
Garden City, NY 11530
--