School Group Field Trips Your Students Will Never Forget!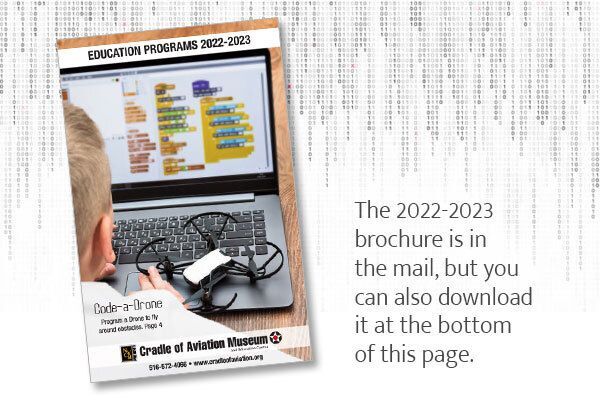 ---
Welcome | Programs | Planning Guide | Reservation Form
Virtual Field Trips are also still available!
---
Dear Educator:
As you take off into the 2022-2023 school year, the Museum wants you to know that we are readily awaiting your arrival!
We hope we can assist you through exciting field trip experiences designed to instill a sense of wonder around Long Island's role in history and the sciences, the future of air and space, and to complement the learning offered in your classrooms.
This year, the museum is excited to announce programming options including our theme – The Future is Now – which will illustrate the importance of interconnectedness as the world ushers in a new age of aviation and space exploration.
Join us for new in-person programming highlighting coding for drones; an augmented reality Mars mission; and our newest planetarium shows Touch the Stars and Unseen Universe.
In addition to regular operational hours made available for field trips, the Museum also plans to operate exclusively for schools during select weekdays. During these days, the Museum can be open just for you, your students, your school, or your district (group minimum applies). 
If you are not quite ready for the traditional field trip, join us for a virtual field trip experience! The museum has programs for students to see our galleries and interact with our educators all while learning something new. We have even worked to design programming that can be taught with individualized student kits, customized lessons, and if preferred asynchronous learning models online. 
We know the learning continues for you too. Consider joining our museum educators as we introduce a series of professional development workshops designed to provide project-based learning for you to bring back to your students while earning CTLE credit hours.  
Trips and classes remain BOCES fund-able. To schedule a program please reach out to our Reservations Department by phone at 516-572-4066 as they would be happy to guide you through our booking process.  
To smooth the process of planning your visit, we've developed an online Field Trip Planning Guide and associated Reservation Form for your use. Or, if you'd prefer to speak with a human being, you can reach our Reservations team at 516-572-4066, Monday through Friday from 10:00 am to 4:00 pm!
We are full of hope for an exciting new year and we are thankful for your patronage.
 
Sincerely,
Catherine Gonzalez
Education Director
---
Thanks to a New York State Council on the Arts grant, you can now download our 40 page educator guide containing both pre and post visit activities. 
---
Welcome | Programs | Planning Guide | Reservation Form
Virtual Field Trips are also still available!
---