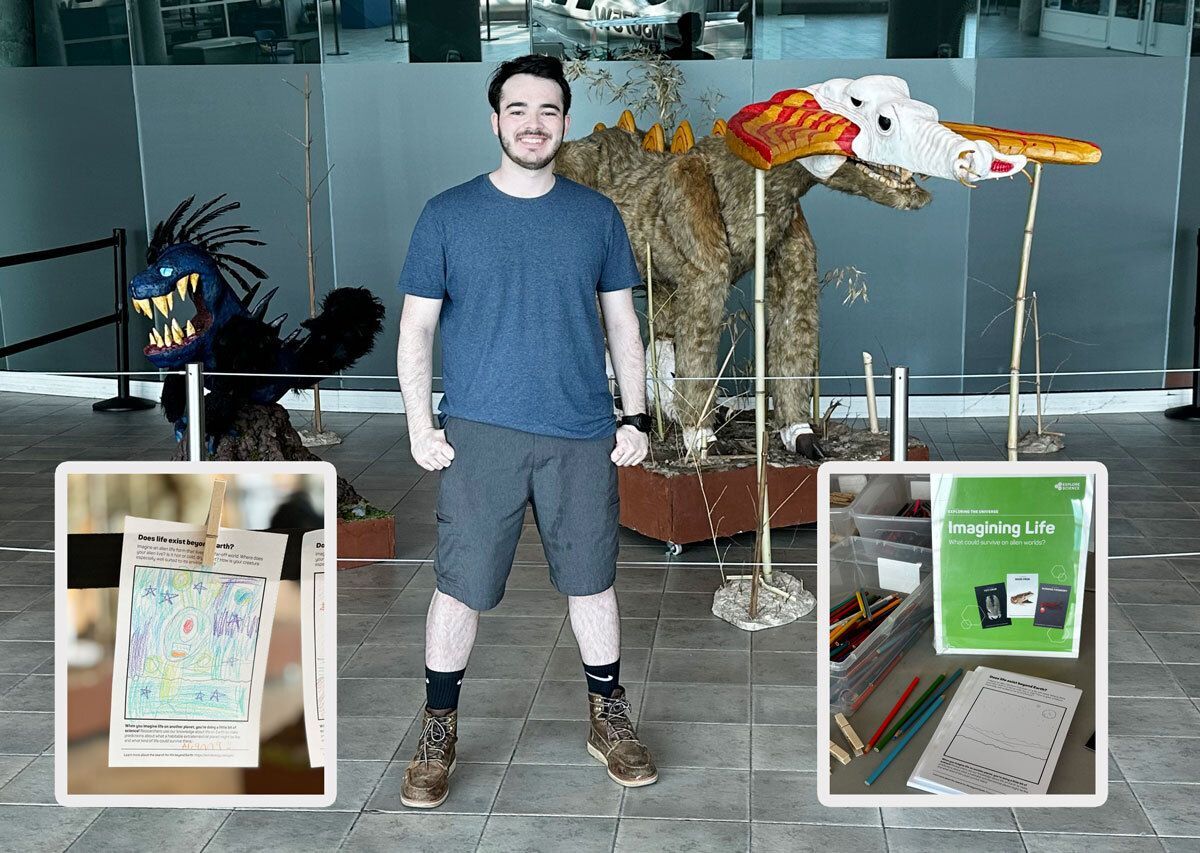 East Garden City, New York – July 20, 2023 – The Cradle of Aviation Museum is excited to announce its collaboration with local artist Samuel Abrams for the engaging summer exhibit, 'Believable Creatures.' This unique exhibition aims to help museum visitors visualize alien life and imagine extreme environments that may exist beyond Earth. The exhibit showcases Abrams' intriguing sculptures, which combine the language of science and fantasy into life-size installations, depicting believable creatures.
Samuel Abrams, a recent graduate from Adelphi University with a BFA in sculpture and digital art, shares his inspiration for the project. "In my thesis project, I brought to life animals that I first imagined as a small child, fashioning my work after natural history exhibits. My works intentionally combine the language of science and fantasy into life-size sculptural installations depicting believable creatures."
The 'Believable Creatures' exhibit is now open to the public at the Cradle of Aviation Museum and will run through September 3rd. Visitors can participate in an interactive hands-on activity, 'Exploring the Universe: Imagining Life,' where they are encouraged to envision and draw extreme environments beyond Earth. In this activity, they invent living beings that could thrive in such environments. Participants have the option to contribute their artwork to the exhibit or take it home as a souvenir. The activity is free with museum admission.
The Cradle of Aviation Museum's partnership with the NISE Network (National Informal STEM Education Network) enables the delivery of this exciting educational activity. The hands-on experience fosters social learning among visitors, educators, and STEM professionals, emphasizing the following learning goals:
If life exists elsewhere in the universe, it could look very different from life on Earth.
Life on Earth comes in an amazing variety of forms.
Astrobiologists use our knowledge about life on Earth to make predictions about what life might be like elsewhere in the universe.
Visitors are encouraged to take advantage of this unique opportunity to explore the possibilities of life beyond our planet and appreciate the wonders of both science and imagination.
The Cradle of Aviation Museum is located on Charles Lindbergh Blvd. in East Garden City and welcomes visitors from Tuesday to Sunday, 10:00 am to 5:00 pm. With over 75 air and spacecraft on display and a giant screen planetarium full-dome theater, the museum promises an unforgettable experience for all ages. For more information, please visit www.cradleofaviation.org or call 516-572-4111.
###
For media inquiries, please contact:
Jerelyn Zontini
Director of Marketing
516-572-4064
jzontini (at) cradleofaviation.org
Media Assets: https://photos.app.goo.gl/yGvejQVKF48vQi2w9