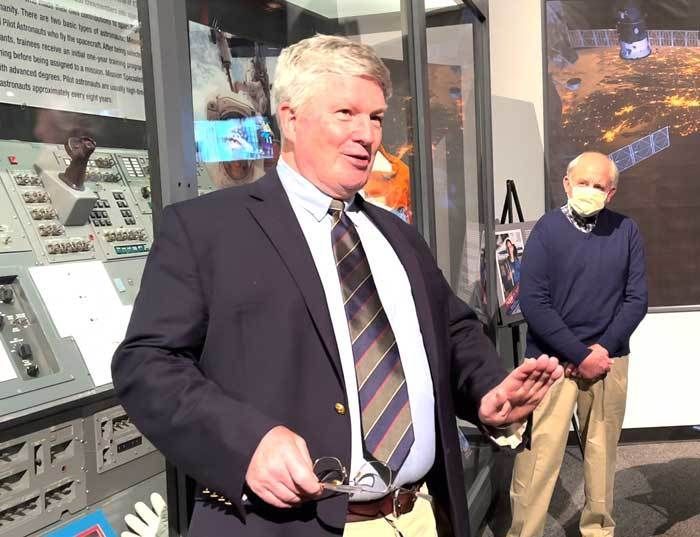 The New Age of Space
Astronaut Bill Shepherd launches "New Age of Space" addition to the museum's Space Gallery
Garden City, N.Y., – On May 10th, 2021, Former NASA Astronaut Bill Shepherd (Capt. USN ret.) from Babylon, teamed up with the Cradle of Aviation Museum and Education Center to introduce "The New Age of Space" addition to the Museum's Space Gallery.
The display showcases many of Shepherd's artifacts from Captain Shepherd's space missions plus models of the latest rockets from NASA, SpaceX, and Blue Origin.
A former Navy Seal and NASA astronaut, Captain Shepherd has flown three Space Shuttle missions. Along with two Russian cosmonauts, he launched from Kazakhstan in 2000, docked to the International Space Station, and began "Expedition One" onboard the new space outpost. "We are now at a crossroads, deciding whether we are bound to inhabit only Earth, or if humans are to live work far from the Home Planet. The Space Station is a start to this journey. Let us continue now with new explorations which are more expansive and bolder; voyages which will define us as a space-faring civilization" Shepherd said.
Captain Shepherd met with local Middle school students for a special question-and-answer session during the day and presented a sold-out evening lecture to the public. He discussed his experiences in space, gave highlights of the Cradle of Aviation's newest Space Gallery addition, "The New Age of Space", and shared his thoughts on the future of space exploration.
The Cradle of Aviation Museum and Education Center is home to over 75 planes and spacecraft representing over 100 years of aviation history and Long Island's only Giant Screen Dome Theater. The museum is located on Museum Row, Charles Lindbergh Blvd., in East Garden City. For more information call (516) 572-4111 or use our contact form here.