Long Island's Air and Space Museum
Preserving Long Island's rich aerospace heritage of discovery and inspiring future generations through science and technology.
Buzz Aldrin in conversation with Leonard David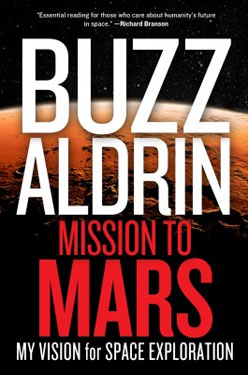 Lecture is SOLD OUT, however, you may still come for the book signing!
--
The Cradle of Aviation Museum is honored to have Astronaut Buzz Aldrin for a special discussion and book signing of his recently released book "Mission to Mars: My Vision for Space Exploration," on Saturday, May 11th at 12 noon. Following the discussion, Mr. Aldrin and his co-author Leonard David will be signing their book.
This is a special opportunity to meet Buzz Aldrin who, together with Neil Armstrong, became the first astronauts to land on the moon on the Apollo 11 lunar mission. Mr. Aldrin was honored by the Cradle of Aviation in 2009 and has visited us for book signings in the past. He will also sign his children's book "Look to the Stars" which will be available at the museum store along with "Mission to Mars."
Buzz will only autograph books purchased from the Museum. Please no memorabilia and outside items. You can come just for the book signing but ticket holder's will receive priority in the book signing line.
Lecture is SOLD OUT, however, you may still come for the book signing!
Admission is $20.00/$15.00 for museum members.
To reserve your seat, please call (516) 572-4066.
---
Hours
Open Tuesday-Sunday, 9:30-5:00
Open Mondays that fall on Holidays and School Breaks
Admission Rates
Museum
Adult $15
Child/Senior* $13
Museum includes aviation museum galleries and Junior Jet Club
Planetarium & Dome Theater Shows
Adult $9
Child/Senior* $8
Museum and Show Combo
Adult $20
Child/Senior* $18
Combo includes the museum and a single Planetarium or Dome Theater show.
*Children ages 2-12, Senior Citizens 62+, Military Personnel, Volunteer Firemen & Non-Ambulatory Visitors
Other Options
Junior Jet Club $2.50
Nunley's Carousel $2
Cradle of Aviation Museum
Charles Lindbergh Blvd.
Garden City, NY 11530
--