Eternal Con - The Long Island Comic Con
Saturday, June 14, 10AM-7PM, Sunday, June 15, 10AM-5PM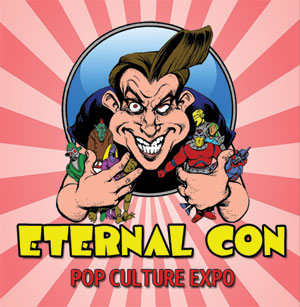 Description:
BUY TICKETS HERE
Tickets are also on sale at the museum box office.

Saturday, June 14, 2014
10:00AM-7:00PM
Adults - $20, Children (2-12) - $12

Sunday, June 15, 2014
10:00AM-5:00PM
Adults - $20, Children (2-12) - $6

Members (either day)
Adults - $15, Children (2-12) - $6

Eternal Con is Long Island NY's large scale multi media pop culture convention. Held annually at the Cradle of Aviation Museum in Garden City, Eternal Con brings together the best in Comic Books, Collectibles, Gaming, Sci-Fi, Cosplay, Horror, and all things pop culture. We would like to thank you all for making the 2013 event a HUGE success with over 3000 attendees! Due to public demand, we are expanding to 2 DAYS in 2014 with 3 floors and over 250 tables of Pop Culture Madness! In addition to our huge vendor space we will have raffles, giveaways, costumes, special guests, a car show, movie screenings, full access to the Cradle of Aviation Museum (with paid admission) and much, much more! We are excited to bring you this event and hope to see you in 2014!