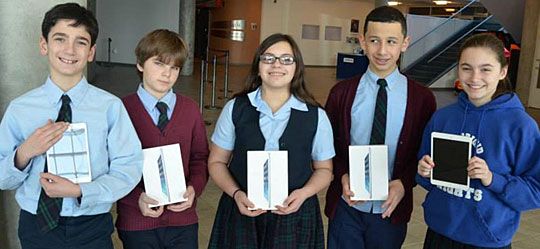 Winning Middle School team from St. Brigid - Our Lady of Hope Regional School, Westbury NY.
---
Garden City, N.Y. – On Monday, February 10th, from 9:00am to 12:00pm, the iConnect Challenge was held at the Cradle of Aviation Museum. The challenge brought teams of middle school and high school aged students together to design, film, and edit their own video with the goal of promoting mobile device applications for classroom learning.
Teams were judged on their overall commercial announcement, demonstration of the app in STEM (Science, Technology, Engineering, and Math) learning, as well as their creativity with the top teams taking home mobile devices! Schools with participating students include: Wantagh High School, St. Agnes Cathedral School in Rockville Centre, Lawrence Woodmere Academy, Holy Angels Regional School in Patchogue, Saints Cyril and Methodius School in Deer Park, Seaford High School, St. Mary's High School in Manhasset, Our Lady of Mercy Regional School in Cutchogue, St. Patrick School in Smithtown, and St. Brigid in Westbury.
Funded by the Best Buy Foundation, the iConnect Challenge asked students to work in teams to identify mobile apps and create a video to promote mobile device technologies in their classroom. "Mobile devices can be used as a supplemental learning tool and study resource will encourage students to further explore subjects emphasized in the classroom. It is a great opportunity for students to repurpose their knowledge of technology for their classes" said Catherine Bingham, Education Manager.
The iConnect Challenge is just one of many educational competitions produced by the Cradle of Aviation Museum. The Cradle is home to over 75 planes and spacecraft and is located on Charles Lindbergh Blvd., in the Garden City/Uniondale area.