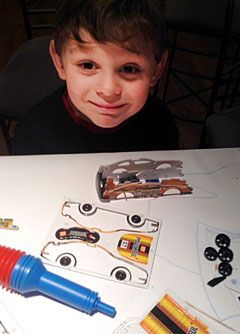 Garden City, N.Y. – On November 23, 2013, the Cradle of Aviation hosted its first Soaring Cars Contest. Participants from Kindergarten to 4th grade brought their ideas for a futuristic and aerodynamic car to the Cradle of Aviation Museum and watched them take flight! Open to the public, participation was free with museum admission.
Soaring Cars are constructed by our participants at home allowing their creativity to reach unlimited bounds. Participants had cars with wings, parachutes, and even some passengers! At the museum, the completed vehicles were ready for take-off and launched into the air from our 7 foot ramp. Vehicles that achieved the farthest distance and exhibited the most innovative concepts won prizes.
Engineering is vital to the development of our nation and covers the whole physical development area like aeronautics, medical, electronics, computer, mechanical, automobiles and civil. By offering events like the Soaring Cars Contest and other Science, Technology, Engineering, Arts, and Mathematic (STEAM) activities the museum helps facilitate interdisciplinary and 21st century learning for Long Island youth.
The Soaring Cars Contest is just one of many educational events and activities produced by the Cradle of Aviation Museum supporting STEAM education.
For more information, contact Education Coordinator, Catherine Bingham at 516-572-4028.