Teresa Ferraro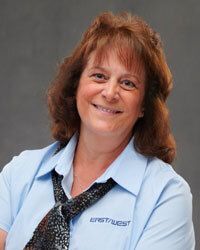 Teresa Ferraro is the President of East/West Industries, a family-owned, woman-owned small business that was founded in 1968 by her parents Dom and Mary Spinosa and is located in Ronkonkoma, New York. Ms. Ferraro works alongside her brother Joseph Spinosa, VP Business Development, in continuing the legacy set forth by their parents 50 years ago. East/West is globally recognized as a trusted provider of choice for design and manufacturing excellence of aircraft seats and other critical safety components for the industry's most innovative aircraft.
Ms. Ferraro has a 35-year track record of success proving fiscal, strategic and operational leadership and is known for her exceptional interpersonal skills and ability to resolve multiple and complex challenges while motivating staff to peak performance. She recently led the most significant business expansion in East/West history including a move to a new facility that increased the company's footprint by approximately 50 percent as well as the creation of a hiring plan to expand the workforce by 40 percent in three years.
A graduate of Adelphi University, Ms. Ferraro has utilized her skills to create successful business relationships with major aerospace and defense contractors, including Northrop Grumman, The Boeing Company, Sikorsky Aircraft and Lockheed Martin, among others. Ms. Ferraro credits the company's success during the last five decades to "innovative design, great value and responsive support" coupled with the ability to "understand customer needs while delivering high performance and value."
East/West is a federal and state certified Woman-Owned Small Business (WOSB) and Women's Business Enterprise (WBE). East/West is a three-consecutive year recipient of the Boeing Performance Excellence Award (BPEA) Gold level supplier and most recently selected as 1 of 13,000 suppliers for the prestigious 2018 Boeing Supplier of the Year Award. The company has also received recognition as a Lockheed Martin STAR Supplier and locally awarded the Long Island Business Development Council – Business Commitment Award. East/West is focused in hiring our veteran's; Long Island has a veteran population of 167,000, more than any other area in New York State. Our commitment is to aid in job opportunities as our veteran's transition into civilian life. Ms. Ferraro recently received the Leadership Award from Hofstra University Army ROTC Office for her passion and leadership skills within the industry as well as the inaugural Leadership Award from Moxxie, a young women's mentoring organization. East/West has worked successfully with the Girl Scouts of Suffolk County to develop a STEM Badge Program to expose young women to the opportunities of STEM within business.