Planetarium Showtimes
Our immersive full-dome planetarium with newly upgraded pure laser projectors is one of the largest and most powerful virtual reality experiences in the world!
One World One Sky: Big Bird's Adventure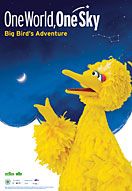 Explore the night sky with your favorite friends from Sesame Street in One World, One Sky: Big Bird's Adventure. Follow along with Big Bird, Elmo and their friend from China, Hu Hu Zhu, as they take you on a journey of discovery to learn about the Big Dipper, the North Star, the Sun and the Moon.
Running time, 25 minutes.
Just a $5.00 add-on to your paid museum admission!
(Members receive a $1.50 discount on planetarium shows)
One World, One Sky: Big Bird's Adventure was created as part of a global partnership between the Adler Planetarium; Sesame Workshop, the nonprofit educational organization behind Sesame Street; the Beijing Planetarium; and the Liberty Science Center (Jersey City, NJ).