Planetarium and Dome Theater
Our immersive planetarium and full-dome theater is one of the largest and most powerful virtual reality experiences in the world!
A Talk with Scarlin Hernandez, Spacecraft Engineer for NASA's James Webb Space Telescope - Una charla con Scarlin Hernández, Ingeniera de Naves Espaciales para el telescopio espacial James Webb de la NASA [For School Groups]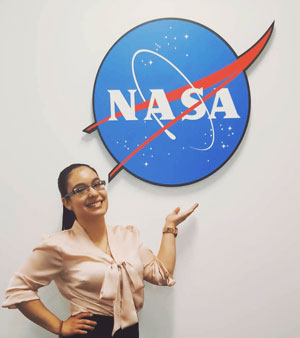 Join us for a talk with Scarlin Hernandez, Spacecraft Engineer for NASA's James Webb Space Telescope.
- 10:00 am in English and 12:00 pm in Spanish - Free for school groups.
- For Reservations and information contact Catherine Gonzalez at 516-572-4028 or cgonzalez@cradleofaviation.org
--
To celebrate Hispanic Heritage month and our Countdown to Apollo at 50, the Cradle of Aviation Museum is honored to host Ms. Scarlin Hernandez on Tuesday, October 16th from 10:00am – 11:00am and a Spanish session from 12:00pm to 1:00 pm.
Ms. Hernandez will be at the museum to speak with students from local underserved districts about her experience as an Engineer for NASA. Students will also have the opportunity to ask questions about her experience on her latest project, for the James Webb Space Telescope Mission.
Ms. Hernandez is a native of the Dominican Republic, immigrated to the United States at four years old, and was raised by her mother in Brooklyn, NY. Ms. Hernandez's mother hard work instilled in her daughter to become an independent woman and value education. She supported her daughter's educational aspirations and her choice to pursue a career in Engineering. Scarlin went onto attend Capitol Technology University and earned her Bachelor's degree in Computer Engineering, but found her real niche in Astronautical Engineering. Ms. Hernandez completed an internship at NASA's Goddard Space Flight Center, and by the age of 20, she was sending commands to the Tropical Rainfall Measuring Mission (TRMM) satellite on-orbit. Upon graduation from Capitol Technology University, NASA offered her a full time position for TRMM and currently works the James Webb Space Telescope mission.
Ms. Hernandez will deliver a message of positivity and motivate students to chase after their dreams. Her message to the world: "You are truly in control of your own destiny. I'm a Hispanic female who grew up in poverty and abuse, but I'm also an engineer that works on a NASA mission. Don't listen to the naysayers. Go for what you want and don't stop until you get it. No matter your background or your circumstance -- crawl, walk, run and jump towards your dream! As long as you don't give up one day it will be yours, and all the hard work will pay off. And another thing -- don't be afraid of being the first at something! You're worth it, and the world needs you!" Join us to celebrate Hispanic Heritage Month, with a young remarkable woman that epitomize dedication, willpower and determination.