Planetarium and Dome Theater
Our immersive planetarium and full-dome theater is one of the largest and most powerful virtual reality experiences in the world!
An Evening with Astronaut Hoot Gibson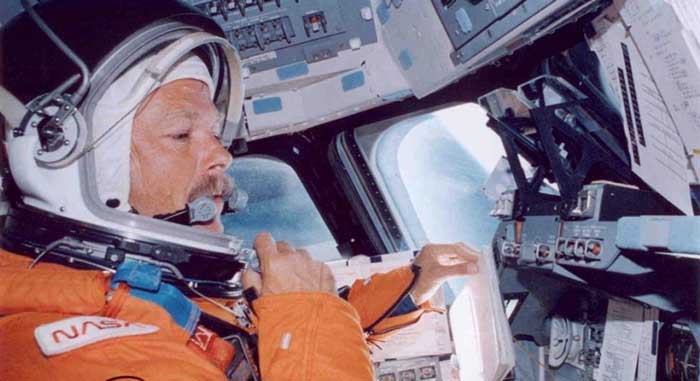 Please join us for an evening with Engineer, Pilot, & Astronaut Robert "Hoot" Gibson
As part of its "Countdown to Apollo at 50" celebration, the Cradle of Aviation Museum and Education Center is honored to welcome distinguished and accomplished engineer, pilot, and Shuttle astronaut, "Robert "Hoot" Gibson, who will be giving a lecture on Thursday, October 4th, 2018, at 7:00 pm in the Museum's Dome Theater. Additionally, Gibson will be announcing the official opening of the museum's new space exhibit, "Space: A Journey to Our Future" the following morning. Having flown over 111 different types of aircraft, Hoot Gibson is an expert when it comes to the topic of flying. He has had a pilot's license since the age of 17 and has completed over 6,000 hours of flying time in his career including spending a total of 36 days in space. Other pilots say he's the best, a pilot's pilot.
The lecture is FREE, but reservations are required.
For information and to reserve your seat, please call 516-572-4066 Monday through Friday, 10 am to 4 pm.
A graduate of Huntington High School and Suffolk Community College, his passion for flying took him to California Polytechnic State University where he graduated with a degree in aeronautical engineering in 1969. He then entered active duty with the Navy in 1969 and from 1972 to 1975, flew three tours of combat missions in Southeast Asia off the carriers USS Coral Sea and USS Enterprise. He's a graduate of the Naval Fighter Weapons School "Top Gun" and served as an F-14A flight instructor. He was assigned to the first F-14 squadron, VF-1 at NAS Miramar. He joined NASA in 1978 and flew five missions serving as pilot or commander on STS-41B in 1984, STS-61C in 1986, STS-27 in 1988, STS-47 in 1992 and STS-71 in 1995. His missions included flights on the Challenger, Columbia, Atlantis and Endeavor Space Shuttles. In 2015, Hoot won the Unlimited Gold Race in "Strega" at the National Championship Air Races in Reno. Hoot is retired from Southwest Airlines and serves as an Aviation Safety Consultant.
The museum is celebrating "Countdown to Apollo at 50" sponsored by the Robert D.L. Gardiner Foundation, showcasing Long Island and Grumman's significant role in the Apollo program.