Planetarium and Dome Theater
Our immersive planetarium and full-dome theater is one of the largest and most powerful virtual reality experiences in the world!
An Evening with Astronaut Mike Massimino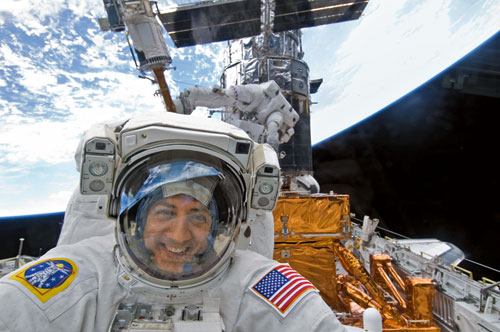 COUNTDOWN TO APOLLO AT 50
An Evening with Astronaut Mike Massimino
As part of our "Countdown to Apollo at 50" we welcome our next lecturer, Space Shuttle Astronaut Mike Massimino to the Cradle on Thursday, June 21. The lecture will be at 7:00 pm, with a Member Meet & Greet at 6 pm.
Mike was raised in Franklin Square and graduated from Carey High School. He got a degree from Columbia University and obtained a PhD from MIT. He joined NASA in 1996 and flew on two shuttle missions and on the last mission was sent to repair the Hubble Space Telescope. Mike has appeared on the TV show "The Big Bang Theory" and is the author of "Spaceman: An Astronaut's Unlikely Journey to Unlock the Secrets of the Universe" .
Mike will be inducted into the Cradle's Long Island & Space Hall of Fame at a luncheon earlier in the day.
Admission is FREE, but reservations are required.
Reserve your seat by calling 516-572-4066, Monday through Friday from 10 am-4 pm.