Planetarium and Dome Theater
Our immersive planetarium and full-dome theater is one of the largest and most powerful virtual reality experiences in the world!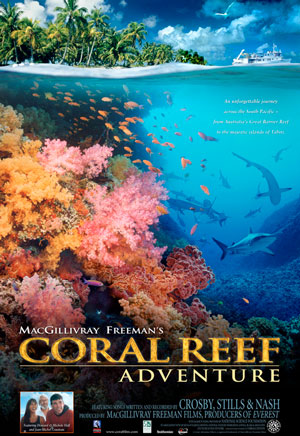 Take a once in a lifetime journey across the South Pacific for a spectacular giant screen adventure. Joy, ecstasy, a spiritual high: these words describe the exhilaration of diving a pristine coral reef, and ocean explorers Howard and Michele Hall bring their love of the ocean into action. With Jean-Michael Cousteau, deep reef scientist Richard Pyle and Fijian diver Rusi Vulakoro, they explore and capture on film the dazzling underwater world of coral reefs, magical places here on Earth. This tropical excursion through the South Pacific will surprise and delight you as you fall in love with the reefs, and your heart will ache at the tragic, irretrievable loss of these fragile worlds.
Director Greg MacGillivray, a documentary filmmaker whose specialty is the natural world, turns his camera on the South Pacific's beautiful but potentially endangered coral reefs. Backed by narration from Liam Neeson and music by Crosby, Stills and Nash, MacGillivray's film focuses on the the underwater work of a husband-and-wife duo. As they survey the waters near Australia, Tahiti and Fiji, Howard and Michele Hall explain what must be done to preserve the reefs.