Planetarium and Dome Theater
Our immersive planetarium and full-dome theater is one of the largest and most powerful virtual reality experiences in the world!
Boy Scouts Robotics Merit Badge (FULL)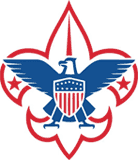 We have room for individual add-on scouts for this program - please call Reservations at 516-572-4066 (Monday-Friday, 10-4)
All Boy Scout Merit Badge programs at the Cradle are lead by certified counselors. 2 troop leaders required and admitted free for all programs. A minimum of eight scouts are required for all Boy Scout programs. Sorry, non-scout siblings are not allowed in Scout programs.
Robotics 3 1/2-hour program, $30 per scout, Pre-requisites required: 1a, 1b, 6b, & 7
Compare and determine the essentials needed to engineer a robot. Learn about the robotics industry and its importance to our space program. Design, build, and test a robot. Explore different careers in the robotics field. Please note: Scouts will use LEGO Mindstorms kits to construct the robots. These kits remain property of the museum.