Planetarium and Dome Theater
Our immersive planetarium and full-dome theater is one of the largest and most powerful virtual reality experiences in the world!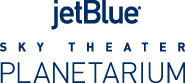 The all-digital, JetBlue Sky Theater Planetarium — with its state-of-the-art high-resolution projection and sound system provides an exciting, entertaining and unparalleled experience that will take you on journeys you've only imagined.
The National Geographic Leroy R. & Rose W. Grumman Dome Theater provides a unique immersive learning experience. 
Our full-dome theater brings you films that will take you to places you've only dreamt of going. The 70mm film format is 10 times the size of a conventional film frame and is the highest quality in the world. 
Theater Schedule (Subject to Change)
---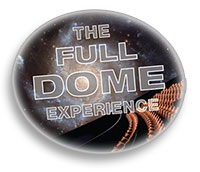 Space Labs - Live Astronomy Programs
Our educator led, interactive, full dome programs utilize Uniview, a visualization and simulation software aimed at presenting and teaching astronomy, astrophysics and earth sciences. Our full dome theater is a large-scale immersive environment, featuring realtime digital planetarium, and large-format cinema. See special weekly calendar at the bottom of this page for upcoming shows.
Upcoming Space Labs