The most interesting event calendar around!
---
Career Conversations: LI STEM Hub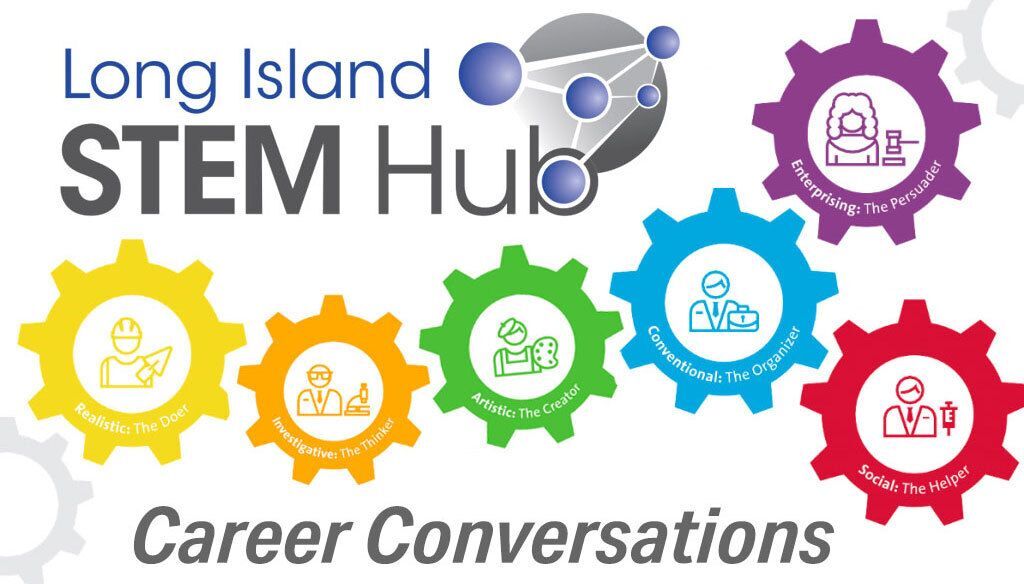 Looking for a great career path? This is a step in the right direction!
The Long Island STEM Hub is proud to present Career Conversations for students and parents.
Taking place here at the Cradle, students in grades 8-11 are invited with their guardians to gain knowledge and the tools needed to help make the best-informed career and educational choice they can by hearing from industry professionals.
These programs run from 9:00–11:30 am and are FREE to attend. Registration is required.
STEM Hub Presentations will be as follows:
March 25th – Energy
Long Island and New York are national leaders in energy innovation and solutions. From solar and offshore wind to energy capture, storage, and transmission, Long Island is at the forefront of change. To realize this energy revolution, we need a STEM-educated workforce.
Come learn about exciting careers in the rapidly evolving field of energy sciences and industry. This FREE event is organized by the Long Island STEM Hub and will feature speakers from Brookhaven National Lab, Empower Solar, SUNY Farmingdale, and SUNY Stonybrook who will share insights on the energy industry and related career pathways.
At this event, your students will have the opportunity to:
Learn about the current state of the energy industry and where it is heading in the future.
Discover different career pathways available in the energy industry and the skills and education required to pursue them.
Explore emerging technologies in the energy industry, such as solar power, wind power, and energy storage systems.
Understand the impact of the energy industry on the environment and how individuals can contribute to creating a sustainable future
Hear about opportunities for innovation and entrepreneurship in the energy industry.
Gain advice on how to navigate the different career paths and make informed decisions about future education and career choices.
Additional Upcoming Talks
April 1st – Aviation
April 22nd – Life and Environmental Science
May 13th – Engineering
June 3rd – Healthcare
Interested students, guardians, and school professionals can register via the Registration button on this page.
For presenting and tabling opportunities, please contact education@cradleofaviation.org