The most interesting event calendar around!
Looking for fun things to do this weekend? You've come to the right place!
Long Island Air and Space Hall of Fame Luncheon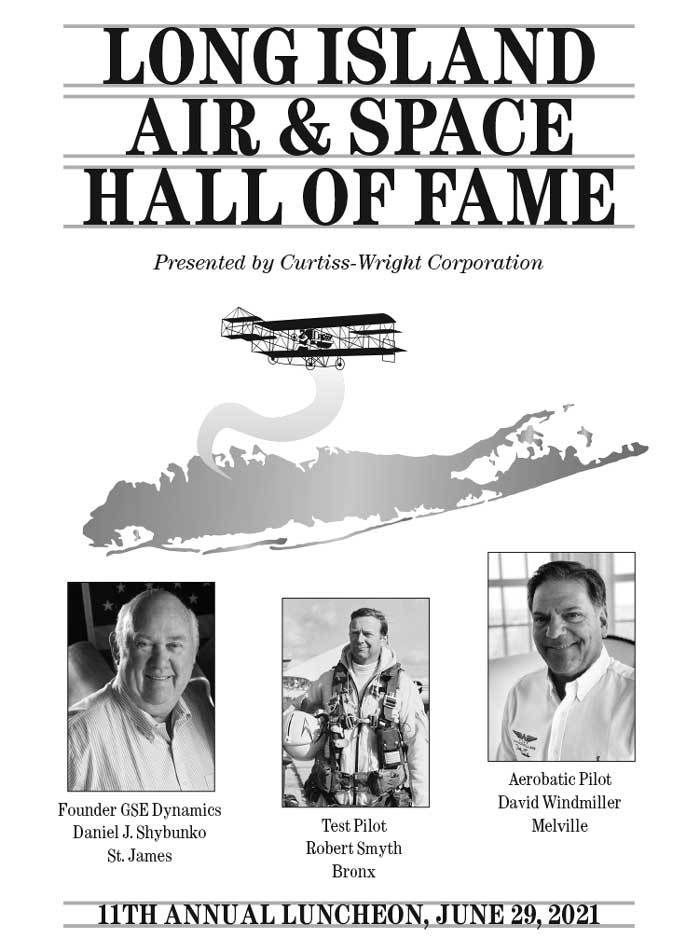 You are cordially invited to attend the 11th Annual Luncheon of the Cradle of Aviation Museum's
Long Island Air & Space Hall of Fame
presented by Curtiss-Wright Corporation
Honoring
The Induction Class of 2021
David Windmiller
Daniel J. Shybunko
Robert Smyth

Tuesday, June 29, 2021, 12:30-2:00 PM
Cradle of Aviation Museum
Charles Lindbergh Blvd. Garden City, New York
Tickets $75.00* per person or $700.00 for a table of 10
Please call reservations at 516-572-4066
Proceeds generated from the luncheon support the museum's education and preservation programs.
About the Long Island Air & Space Hall of Fame
Each year the Long Island Air & Space Hall of Fame will honor those individuals who have played a major role in advancing aeronautical and technological achievement. Your support of this new exhibit and program will assist the museum in our efforts to educate school children throughout the region on the role that Long Island has played and will continue to play in aerospace history.
About Curtiss-Wright
Curtiss-Wright Corporation's history dates back to the dawn of aviation. Curtiss-Wright was created through the merger of companies originally founded by Orville and Wilbur Wright, and Glenn Curtiss, aviation pioneers whose technological innovations in flying in the early 1900s paved the way for the establishment of commercial aviation as a viable mode of transportation and the air superiority that remains the backbone of America's defenses a century later. Today, Curtiss-Wright is a global innovative company that delivers highly engineered, critical function products and services to the commercial, industrial, defense and energy markets. Building on the heritage of Glenn Curtiss and the Wright brothers, Curtiss-Wright has a long tradition of providing reliable solutions through trusted customer relationships. The company employs approximately 9,000 people worldwide. For more information, visit www.curtisswright.com.
About the Class of 2021
David Windmiller
Long Island's own David Windmiller learned to fly at Zahn's Airport, Amityville, starting at age 14. An intense interest in aerobatics led to years of training and he first entered competitions on the world level starting in 1995. He eventually earned a spot on the U.S. Aerobatic Team in 1999 and became a top finalist at the World Aerobatic Championships in France in 2000. Now retired from professional competitions he still performs aerobatic demonstrations at the annual Jones Beach Airshow. He currently operates an advanced aviation safety program at Republic Airport. He has logged 25,000 hours in land and seaplanes, gliders, and helicopters and is an FAA-designated pilot examiner for both airplanes and helicopters as well as being a pilot for News 12. He is also a successful real estate developer and has invented a new type of water filtration system.
Daniel J. Shybunko
Dan was born in Hempstead, and his father was the foreman of the paint shop at Grumman. He received a BA in Civil Engineering and, after serving in the Army Corps of Engineers, he went to work at Grumman. For the next 25 years, he served as a structural engineer and project manager from the 1950s into the 1970s. While still at Grumman in 1971 he founded his own firm, GSE Dynamics, to produce better quality parts as a subcontractor specializing in composites and complex structural assemblies for major aerospace companies. Shybunko steadily developed GSE into a respected aerospace and defense firm which helped build a sustainable aerospace industry on Long Island now able to compete nationally for business. Dan continued to grow the business up until his last days working alongside his daughter Anne who has since taken over the thriving business.
Robert Smyth
A naval fighter pilot since the end of World War Two, he originally flew Grumman F8F Bearcats and early jets before entering U.S. Navy Test Pilot School, graduating in 1952. He served as an exchange officer with the British Royal Navy before accepting a position as an Engineering Test Pilot with the Grumman Aircraft Engineering Corporation in 1955. He participated in the F9F Cougar, F11F Tiger, and Gulfstream I flight test programs through the 1950s. He performed the first flight of the A2F (A-6A) Intruder in 1960 before joining the Apollo Lunar Module Program as a consulting pilot in 1962. Later joining the corporate jet Gulfstream II program, he performed the aircraft's first flight in 1966. In 1967 he was appointed Chief Test Pilot for Grumman and in 1970 he performed the first flight of the F-14A Tomcat. He left Grumman to serve as director of flight operations for the Gulfstream Aerospace Corporation in the early 1980s. He served as the pilot on most of the world-circling record-setting flights of the Gulfstream III and IV in the late 1980s.