The most interesting event calendar around!
eSports College Pro Tour Video Game Tournament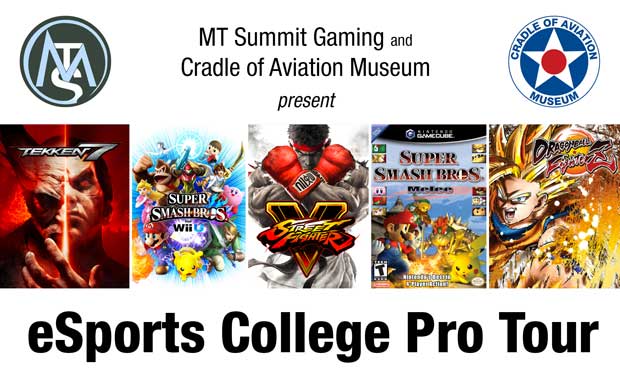 MT Summit Gaming and the Cradle of Aviation Museum
present
eSports College Pro Tour
This tournament will feature an incredible line-up of games and over $1000 in prize support, including a brand new Nintendo Switch!
MT Summit and their staff will be running brackets for the following titles:
Tekken 7 (PS4) - 11:00 am
Smash 4 (Wii U) - 12:00 pm
Street Fighter V (PS4) - 2:00 pm
Smash Bros Melee (Gamecube) - 4:00 pm
Dragon Ball FighterZ (PS4) - 6:00 pm
Players must bring their own controllers!
Check-in begins at 10:00 am
Tickets
$20 Adults
$10 Kids (12 and under)
---
---
Spectators are FREE to join us!
You can get up to a 50% discount on your ticket when you lend us your equipment! Email mtsummitgaming@gmail.com for more details.