The most interesting event calendar around!
Crossing the Horizon: A Novel – reading, presentation and signing with author Laurie Notaro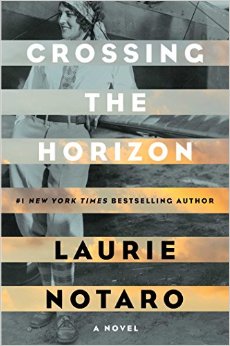 This is a FREE event but reservations are required. Please call 516-572-4066, Mon-Fri from 10am to 4pm to save your spot.
The real story of the women who dared the transatlantic crossing. What you thought you knew was only one scene in a momentous chapter of history that was forgotten.
In 1927 the world was abuzz with the growth of aviation. Charles Lindbergh's record-breaking cross-Atlantic flight sent aviatrixes into a flurry—each of them vying to be the first woman to fly across the Atlantic. In her latest novel, CROSSING THE HORIZON (Gallery Books; October 4, 2016; Hardcover) New York Times bestselling writer Laurie Notaro tells the true, little-known story of three aviatrixes racing to beat one another across the horizon.
Before Amelia Earhart made her own record-breaking flight, there were three women, each fueled by determination and courage, to be the one to follow in Charles Lindbergh's footsteps and make her own history. The women's names were splashed daily across the front pages of the papers: Elsie Mackay, daughter of an Earl, is the first Englishwoman to get her pilot's license. Mabel Boll, a glamorous society darling and former cigar girl, is ardent to make the historic flight. Beauty pageant contestant Ruth Elder uses her winnings for flying lessons and becomes the preeminent American girl of the sky.
Inspired by true events and real people, Notaro vividly evokes this exciting time as her determined heroines vie for the record. Mackay and Elder make history as the first female pilots to fly their own planes over the treacherous expanse of the Atlantic, while contrary to popular belief, Earhart was never once at the controls of the plane and was simply a hand-picked passenger who slept most of the way over the ocean.
Through striking photos, meticulous research, and atmospheric prose, Notaro brings Elsie, Mabel, and Ruth to life, pulling us back in time as the pilots collide, struggle, and literally crash in the chase for fame and a place in aviation history.
About the Author
Laurie Notaro is the New York Times bestselling author of The Idiot Girls Action Adventure Club, Autobiography of a Fat Bride, I Love Everybody and Other Atrocious Lies, We Thought You Would Be Prettier, Idiot Girls' Christmas, There's a (Slight) Chance I Might Be Going to Hell, The Idiot Girls and the Flaming Tantrum of Death, Spooky Little Girl, It Looked Different on the Model, and The Potty Mouth at the Table.
"Notaro portrays this exciting sliver of time with historical accuracy, providing an authentic glimpse of the era (including photographs), and then adds a pump of adrenaline by including dialogue and drama of her own imagination, creating a captivating historical fiction. Be prepared to hold tight as you're boosted into the cockpit for a two-day flight across the horizon. The odds of making it are against you—but what a ride!"
—Kirkus Reviews
"Notaro breaks new literary ground and demonstrates an intuitive sense of narrative and indelible appreciation for history's ironies in this engrossing novel."
—Booklist
GALLERY BOOKS is an imprint dedicated to publishing a variety of must-read books on a wide array of topics. Launched in February 2010, Gallery is designed to showcase established voices and to introduce emerging new ones—in both fiction and nonfiction genres. Some of Gallery Books' bestselling titles include Binge by Tyler Oakley, Selp Helf by Miranda Sings, Turning the Tables by Teresa Giudice, The Perks of Being a Wallflower by Stephen Chbosky, Love Anthony by Lisa Genova, and Mrs. Kennedy and Me by Clint Hill.
SIMON & SCHUSTER, a part of the CBS Corporation, is a global leader in the field of general interest publishing, dedicated to providing the best in fiction and nonfiction for consumers of all ages, across all printed, electronic, and audio formats. Its divisions include Simon & Schuster Adult Publishing, Simon & Schuster Children's Publishing, Simon & Schuster Digital, and international companies in Australia, Canada, India and the United Kingdom. For more information, visit our website at www.simonandschuster.com.
This is a FREE event but reservations are required. Please call 516-572-4066, Mon-Fri from 10am to 4pm to save your spot.