Apollo at 50 Anniversary Dinner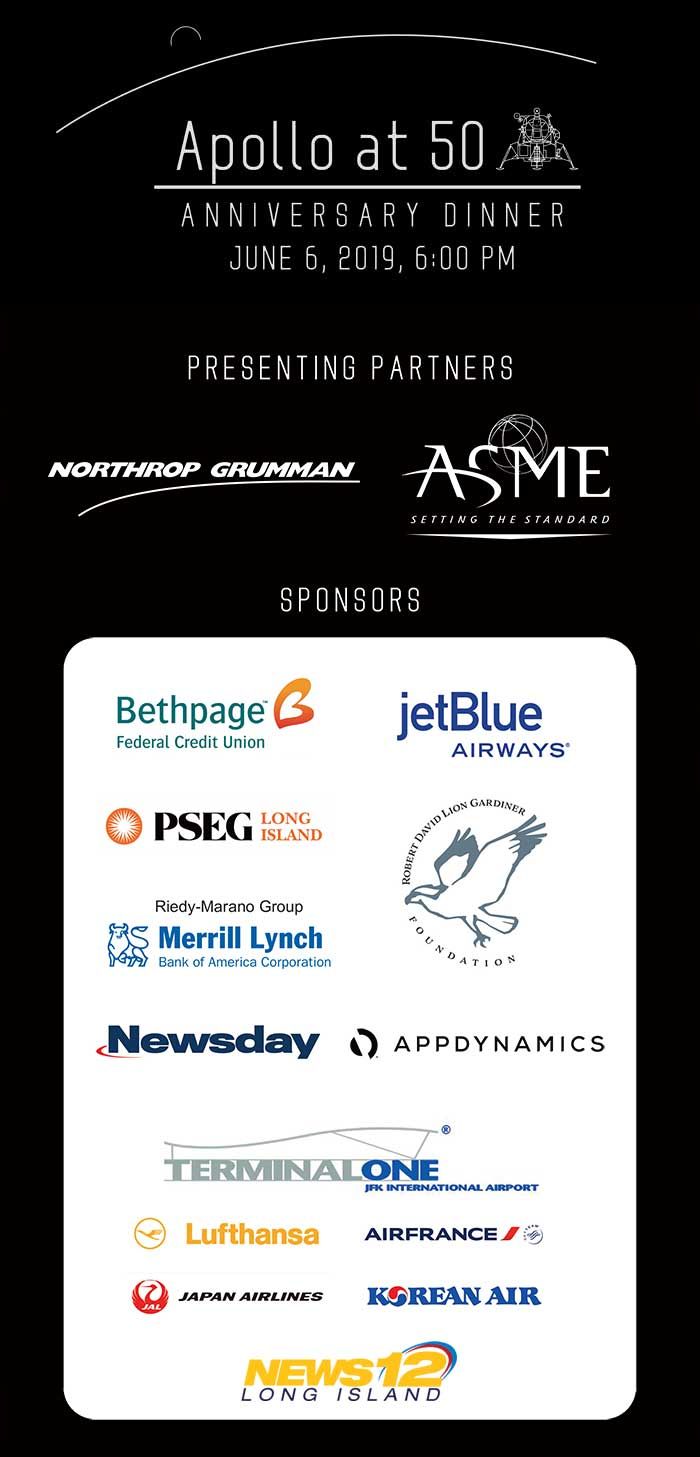 Celebrate Long Island's Role in the Success of the Apollo Program
On July 20, 1969, 600 million people around the world jointly watched Neil Armstrong and Buzz Aldrin take their first steps on the moon. It was the greatest human and technological achievement of our time. And the spaceship that put man on the moon was built by Long Islanders. From 1961 to 1972, Long Island's Grumman Engineers, designed, assembled and tested the Grumman Lunar Module that in total successfully landed 12 men on the moon.
"Nobody at Grumman who worked on the LM will ever forget it… we all knew that we were part of a majestic endeavor, that we were making history happen."
- Thomas J. Kelly (Father of the Lunar Module).
Fifty years later, we are joining together again to celebrate, acknowledge and reflect on this historic event and the role that Long Islanders played in the success of the program and the universal feelings of pride, accomplishment, hope, and optimism that the moon landing generated around the world.
Join us for this once in a lifetime experience.
> Cocktails in the Galleries
> Elegant Dinner and Program
> Apollo Astronaut Tribute
> Space Memorabilia Auction
> Scheduled Guests:
- Walt Cunningham, Apollo 7
- Rusty Schweickart, Apollo 9
- Fred Haise, Apollo 13
- Charlie Duke, Apollo 16
- Harrison Schmitt, Apollo 17
- Gerry Griffin, Apollo Flight Director
- Milt Windler, Apollo Flight Director
Plus other invited Astronauts and Flight Directors
Tickets: $275 per person
Please call Reservations at 516-572-4066 (Monday-Friday, 10:00 am-4:00 pm) for tickets.
Discounted tickets available for Grumman Retirees and Museum Members.
Proceeds to Benefit Museum Education and Preservation Programs.