Long Island's Air and Space Museum
Preserving Long Island's rich aerospace heritage of discovery and inspiring future generations through science and technology.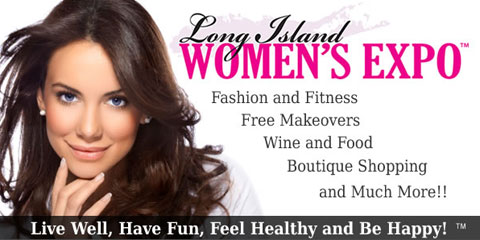 The Largest Event for Women on Long Island!
Grab your girlfriends for the ultimate 2-day women's lifestyle event featuring the latest in fashion, food, fitness, cosmetics, travel, family, home, health and so much more all under one roof!
> Free Hair and Cosmetic Makeovers
> Boutique Shopping, Wine tastings and More!
> Admission Only $10 Online and $14 at the door!!
> Member Price: $8 (must purchase in-person at the museum box office)
---
Events and Special Features
Friday Only: Taste 100 Wines from Around the World!
> Enjoy Wine/Chocolate/Cheese Pairings!
> 21+ to Taste Wines - Proper ID Required
> Included FREE with your Friday Ticket!
Saturday Only: Kids Center Open!
---
Hundreds of Exhibits Featuring Products and Services
Boutique Shopping, Nutrition, Financial Services, Skin Care Products, Holistic, Wine Tasting, Children's Clothing, Personal Trainers, Perfumes, Dentists, Medical Consultations, Personal Products, Nail Care, Fashion Apparel, Jewelry, Beauty & Fragrance, Fitness, Chiropractic, Wine Slushies, Unique Gifts, Pilates Instructors, Cosmetics, Health Screenings, Fashion Galore, Doctors, Organic Foods, Fashion, Massage Therapy, Gift Assortments, Health Foods, Law Firms, Wine Merchandise, Insurance Companies, Yoga, Skin Care, Tarot Readings, Fun, Health and Fitness, Design Consultants, Accessories, Health & Wellness, Home Decor, Restaurants, Unique Products, Identity Protection, Feng Shui, Gyms, Life Coach, Casino Pavillion, Empowerment, Home Design, Auto Dealers, Spas & Salons, Elective Services, Interior Decorating, Vacation / Travel Cos., Dance Schools, Weight Loss Professionals, Organic Coffee / Tea, Fitness Studios, Business Coach, Fitness Demos, Relaxation, Wine Tasting, Garden Lounge
---
Hours
Open Tuesday-Sunday, 9:30-5:00
Open Mondays that fall on Holidays and School Breaks
Admission Rates
Museum
Adult $15
Child/Senior* $13
Museum includes aviation museum galleries and Junior Jet Club
Planetarium & Dome Theater Shows
Adult $9
Child/Senior* $8
Museum and Show Combo
Adult $20
Child/Senior* $18
Combo includes the museum and a single Planetarium or Dome Theater show.
*Children ages 2-12, Senior Citizens 62+, Military Personnel, Volunteer Firemen & Non-Ambulatory Visitors
Other Options
Junior Jet Club $2.50
Nunley's Carousel $2
Cradle of Aviation Museum
Charles Lindbergh Blvd.
Garden City, NY 11530
--