Long Island's Air and Space Museum
Preserving Long Island's rich aerospace heritage of discovery and inspiring future generations through science and technology.
The Aircraft Designers: A Grumman Historical Perspective - Free Lecture & Book Signing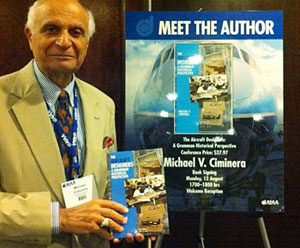 The Aircraft Designers: A Grumman Historical Perspective
By Mike Ciminera, Northrop Grumman Vice President (ret.) Sponsored in part by AIAA.
Admission is FREE, reservations required, call 516-572-4066 to reserve your seat.
Refreshments will be served.
Mike Ciminera tells the behind-the-scenes story of the designers and their team mates who conceived and built Grumman aircraft from the founding of the company in 1929 until the 1994 acquisition by Northrop. While Grumman aircraft have been previously documented, The Aircraft Designers focuses on remembering the people, the disciplines, processes and anecdotes behind the creation of such past icons as the F6F Hellcat, F4F Wildcat, TBF Avenger and modern day weapon systems like the F-14 Tomcat, E-2C Hawkeye, EA-6B Prowler and Joint STARS. Mike has identified and documented as many key team members as possible who contributed to the creation of each new design and its development.
The Aircraft Designers provides unique insight into the leadership traits, technical skills and lasting contributions of Grumman's designers and teammates. It will stand as the definitive historical account of the people who made Grumman aircraft a reality.
Mike worked at Grumman for 37 years and Northrop Grumman for 14 years. He spent many years on the F-14 program, working alongside Mike Pelehach. He became a vice president in 1985 and moved out to California with Northrop Grumman in 1995. He and his wife, Donna, still reside in California.
---
Hours
Open Tuesday-Sunday, 9:30-5:00
Open Mondays that fall on Holidays and School Breaks
Admission Rates
Museum
Adult $15
Child/Senior* $13
Museum includes aviation museum galleries and Junior Jet Club
Planetarium & Dome Theater Shows
Adult $9
Child/Senior* $8
Museum and Show Combo
Adult $20
Child/Senior* $18
Combo includes the museum and a single Planetarium or Dome Theater show.
*Children ages 2-12, Senior Citizens 62+, Military Personnel, Volunteer Firemen & Non-Ambulatory Visitors
Other Options
Junior Jet Club $2.50
Nunley's Carousel $2
Cradle of Aviation Museum
Charles Lindbergh Blvd.
Garden City, NY 11530
--