The Aircraft Designers: A Grumman Historical Perspective - Free Lecture & Book Signing
Thursday, September 19, 2013 7:00 pm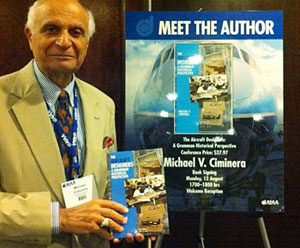 Description:
The Aircraft Designers: A Grumman Historical Perspective

By Mike Ciminera, Northrop Grumman Vice President (ret.) Sponsored in part by AIAA.

Admission is FREE, reservations required, call 516-572-4066 to reserve your seat.

Refreshments will be served.

Mike Ciminera tells the behind-the-scenes story of the designers and their team mates who conceived and built Grumman aircraft from the founding of the company in 1929 until the 1994 acquisition by Northrop. While Grumman aircraft have been previously documented, The Aircraft Designers focuses on remembering the people, the disciplines, processes and anecdotes behind the creation of such past icons as the F6F Hellcat, F4F Wildcat, TBF Avenger and modern day weapon systems like the F-14 Tomcat, E-2C Hawkeye, EA-6B Prowler and Joint STARS. Mike has identified and documented as many key team members as possible who contributed to the creation of each new design and its development.

The Aircraft Designers provides unique insight into the leadership traits, technical skills and lasting contributions of Grumman's designers and teammates. It will stand as the definitive historical account of the people who made Grumman aircraft a reality.

Mike worked at Grumman for 37 years and Northrop Grumman for 14 years. He spent many years on the F-14 program, working alongside Mike Pelehach. He became a vice president in 1985 and moved out to California with Northrop Grumman in 1995. He and his wife, Donna, still reside in California.
Contact Information:
Reservations (10AM-4PM, M-F)