Long Island's Air and Space Museum
Preserving Long Island's rich aerospace heritage of discovery and inspiring future generations through science and technology.
5th Annual Long Island Air & Space Hall of Fame Luncheon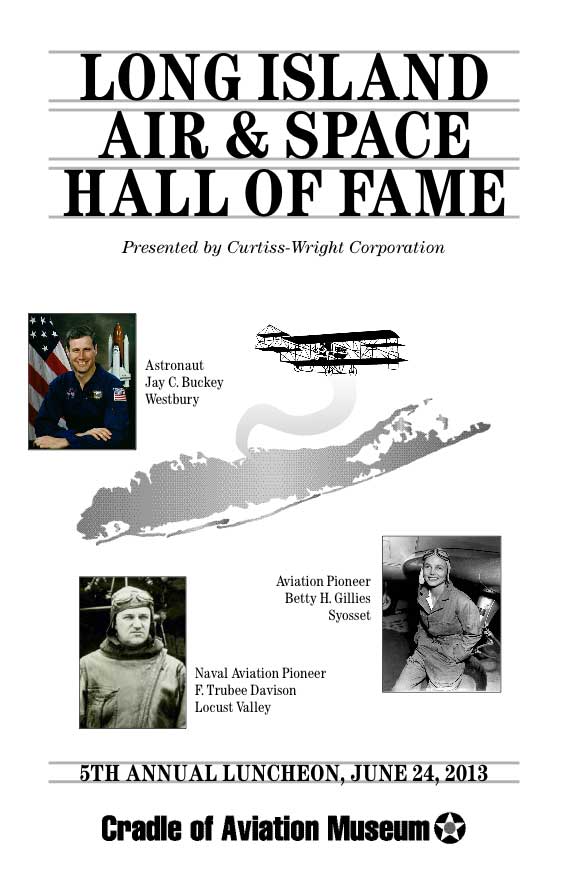 You are cordially invited to attend the 5th Annual Luncheon of the Cradle of Aviation Museum's Long Island Air & Space Hall of Fame presented by Curtiss-Wright Corporation.
Honoring the Induction Class of 2013, Jay C. Buckey, F. Trubee Davison and Betty H. Gillies
Tickets $75.00 per person or $700.00 for a table of 10. Proceeds generated from the luncheon support the museum's education and preservation programs. Please call Reservations at 516-572-4066, Monday through Friday from 10:00AM-4:00PM to reserve your seat.
---
About the Class of 2013
Jay C. Buckey – A graduate of Clarke High School in Westbury, and later Cornell University, Buckey earned a Doctorate in Medicine from Cornell in 1981. An expert in space physiology and cardiovascular regulation, Buckey was a U.S. Air Force Flight Surgeon between 1987 and 1995. A project manager for the experiment "Cardiovascular Adaptation to Zero Gravity" for the Spacelab Life Science 1 mission in 1991, he was then selected to fly as a Payload Specialist for the Space Shuttle STS 90 Neurolab mission in 1998. During this 16 day Spacelab flight he served as both experiment subject and operator for the Life Science experiments focusing on the effects of microgravity on the brain and nervous system. He has since been a Professor of Medicine at Dartmouth Medical School.
F. Trubee Davison – A lifelong resident of Locust Valley, he founded the 'First Yale Unit', the beginning of the Naval Air Reserve while attending Yale University in 1916. They trained on seaplanes at Huntington and Port Washington at their own expense and were commissioned as Lieutenants and Naval aviators in 1917. Injured in a flying accident, he never saw combat, but was awarded the Navy Cross for his services in organizing and overseeing the unit. He later became a lawyer and was on the cover of Time magazine in 1925. He was elected to the New York State Legislature in 1922 and was later appointed Assistant Secretary of the Army to direct aviation between 1926 and 1933. As President of the American Museum of Natural History between 1933 and 1951, he organized its expansion and placed the museum on a sound financial footing. He later served as Assistant Director of the Central Intelligence Agency from 1951 – 1952.
Betty H. Gillies – Growing up in Syosset, Gillies began flying at Roosevelt Field in 1928 and became a founding member of the 99s, an organization of women aviators, in 1929. She later served as President of the 99s between 1939 and 1941. She was one of the first women to receive a Transport Pilots license in 1930 and worked for Curtiss selling and demonstrating airplanes through the 1930s. She founded Gillies Aviation in the late 1930s and sold Wacos and Grumman Gooses. Between 1941 and 1942 she was a Test Pilot at Grumman testing new Wildcat and Hellcat fighters. In 1942 she became the first pilot to qualify for the Women's Auxiliary Ferrying Squadron, later known as the WASPs. In 1943 Gillies was the first women to fly the P-47 and later the first to qualify on the B-17. She was Chairman of the All Woman Transcontinental Air Race between 1953 and 1961, and in 1964 was appointed to be on the first FAA Women's Advisory Committee.
---
About the Long Island Air & Space Hall of Fame
Each year the Long Island Air & Space Hall of Fame will honor those
individuals who have played a major role in advancing aeronautical and technological achievement. Your support of this new exhibit and program will assist the museum in our efforts to educate school children throughout the region on the role that Long Island has played and will continue to play in aerospace history.
---
About Curtiss-Wright Corporation
Curtiss-Wright Corporation's history dates back to the dawn of aviation. Curtiss-Wright was created through the merger of companies originally founded by Orville and Wilbur Wright, and Glenn Curtiss, aviation pioneers whose technological innovations in flying in the early 1900s paved the way for the establishment of commercial aviation as a viable mode of transportation and the air superiority that remains the backbone of America's defenses a century later. Today, Curtiss-Wright is a diversified company headquartered in Parsippany, NJ. that excels at providing government and industry with critical function products, systems and services in the areas of motion control, flow control and metal treatment. It employs approximately 7, 600 people worldwide.
---
Hours
Open Tuesday-Sunday, 9:30-5:00
Open Mondays that fall on Holidays and School Breaks
Admission Rates
Museum
Adult $15
Child/Senior* $13
Museum includes aviation museum galleries and Junior Jet Club
Planetarium & Dome Theater Shows
Adult $9
Child/Senior* $8
Museum and Show Combo
Adult $20
Child/Senior* $18
Combo includes the museum and a single Planetarium or Dome Theater show.
*Children ages 2-12, Senior Citizens 62+, Military Personnel, Volunteer Firemen & Non-Ambulatory Visitors
Other Options
Junior Jet Club $2.50
Nunley's Carousel $2
Cradle of Aviation Museum
Charles Lindbergh Blvd.
Garden City, NY 11530
--