Museum Overnights
Sleep under the planes!
The Museum is closely monitoring and adapting to State regulations regarding our overnight events. For the most recent information or to inquire as to the status of this program, please contact Reservations at 516-572-4066.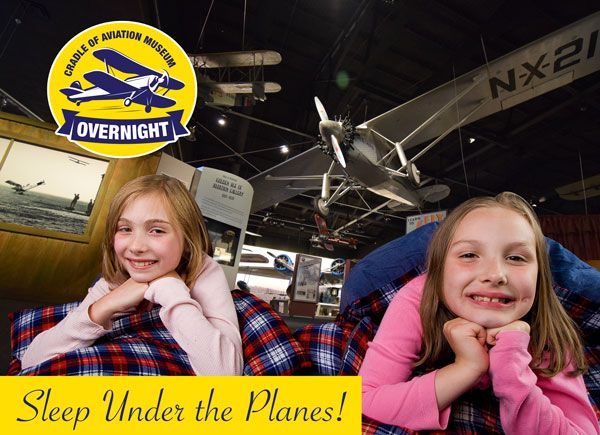 Spring into Fun with an exciting sleepover at the museum that will include a night full of hands-on activities, a giant dome theater movie, snacks, and a light breakfast.
Activities Include:
Scavenger Hunt - Explore the galleries by night with your flashlight as you hunt for artifacts with our new scavenger hunt!
Rocket Mosaics - Alka Seltzer Rockets with food coloring fuel will leave beautiful art as they blast off into the night!
Balloon Stamping - Make swirls of color using balloons as your brush as you paint your next artistic creation!
Spring Trees - Design your own beautiful spring trees with brown craft paper and bright colored tissue!
"It will be an enjoyable family night filled with fun and exhilaration that will make long-lasting memories." - Ines Jijon, Museum Educator
---
Sample Itinerary:
Evening
7:30-8:00 pm - Check-in
8:00-9:30 pm:
Museum Store open
Scavenger Hunt and Activities
Snack
9:30-10:00 pm - Join your group in your sleeping area and prepare your beds.
10:00-11:00 pm - Dome Theater Movie
11:00 pm - LIGHTS OUT!
Morning
6:30 am - Good Morning!
6:30-7:30 am - Breakfast in the Café
8:00 am - Sleepover ends - go home and tell all your friends!
---
Program Details & Requirements
Children ages 5-13 are welcome, along with their parents or caregivers.
At least one adult per four children is required for all groups.
Adults must be 21 or older.
Note: Scout groups are welcome at all Overnights
Pre-registration is required.
The program cost is $50 per person, payable at the time of booking.
Absolutely no walk-in registrations are permitted.
To save your spot, call the Reservations Department at 516-572-4066 Monday through Friday, 9:30 am-4:00 pm.
Each adult guest must fill out a participant release form - Participant Release Form
If you are a chaperone for a child (e.g. for your child's friend), we will also need a release from that child's parent or guardian.
or call Reservations (Monday through Friday, 9:30-4:00) at 516-572-4066
Please fill out the release form here! Parents/guardians of minors you are chaperoning also need to fill out this form!
---
FAQ - Frequently Asked Questions
What's Included?
Evening snack and light breakfast
Scavenger Hunt (BYOF - Bring your own flashlight!)
Hands-on Educational Activities
Giant Dome Theater Movie
Access to the Museum Galleries
What should we bring to the sleepover?
Sleeping Bag and/or sheets
Inflatable mattresses are permitted
Pillow
Flashlight
Camera
Toothbrush and toothpaste
Washcloth
Warm, comfortable clothing to sleep in
Earplugs (optional)
Night mask (optional)
How do I purchase tickets?
Please call Reservations at 516-572-4066.
When will I receive a confirmation?
You will receive an email confirmation shortly after you register. Please have your confirmation available at check-in along with your completed participant release forms and photo ID.
What are the age limitations?
All children must be at least 5 years old and no older than 13 years old. Programming is ideal for children between 5 and 13 years old. Adults must be 21 or older.
Are younger or older siblings allowed to participate?
Yes, as long as they are between the ages of 5 and 13 years old.
What time is the Overnight?
The Museum Overnight begins at 7:30 pm and ends at 8:00 am the next morning.
Where do we park?
Parking is available at our facility and is free of charge.
How do we check-in?
Please enter through our main entrance on Charles Lindbergh Blvd to check in with your sleepover equipment. All entrances are wheelchair accessible.
What if we arrive late?
Check-in begins at 7:30 pm and ends at 8:00 pm when programming begins. The entrance will remain open until 8:30 pm for late arrivals.
What if we need to cancel?
There are no refunds for overnights - all ticket sales are final.
Can we leave early from the overnight?
Yes, participants may leave early if needed. All exits from the museum are final.
When will the Museum Store be open during the overnight?
The Museum Store will be open from 8:00 to 9:00 pm during the overnight.
What if someone gets sick during the overnight?
Notify a staff member if anyone in your group is sick or hurt.