15th Annual Cradle of Aviation Museum Air and Space Gala Honorees
---
SPIRIT OF DISCOVERY AWARD - Alan Bean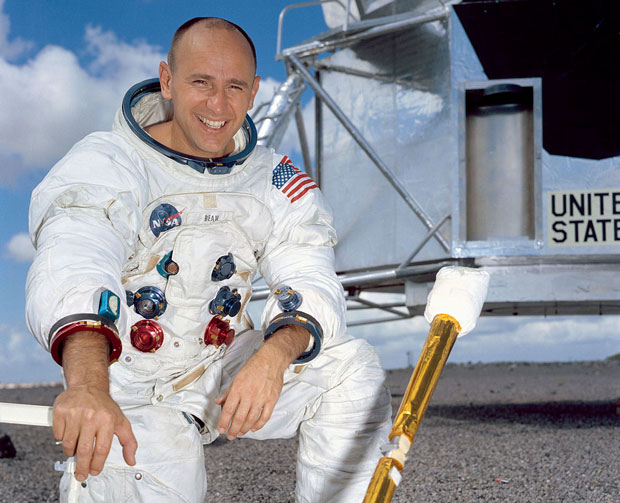 Alan LaVern Bean (born March 15, 1932), (CAPT, USN, Ret.), is an American former naval officer and Naval Aviator, aeronautical engineer, test pilot, and NASA astronaut; he was the fourth person to walk on the Moon.
Alan Bean was one of the third group of astronauts named by NASA in October 1963. He served as backup astronaut for the Gemini 10 and Apollo 9 missions.
Captain Bean was lunar module pilot on Apollo 12, mans second lunar landing. In November 1969, Captain Bean and Captain Pete Conrad landed in the moons Ocean of Storms after a flight of some 250,000 miles. They explored the lunar surface, deployed several lunar surface experiments, and installed the first nuclear power generator station on the moon to provide the power source. Captain Richard Gordon remained in lunar orbit photographing landing sites for future missions.
Captain Bean was spacecraft commander of Skylab Mission II (SL-3), July 29 to September 25, 1973. With him on the 59-day, 24,400,000 mile world record setting flight were scientist-astronaut Dr. Owen K. Garriott and Marine Corps Lieutenant Colonel Jack R. Lousma. Mission II accomplished 150% of its pre-mission forecast goals.
On his next assignment, Captain Bean was backup spacecraft commander of the United States flight crew for the joint American-Russian Apollo-Soyuz Test Project.
Captain Bean has logged 1,671 hours and 45 minutes in spaceof which 10 hours and 26 minutes were spent in EVAs on the moon and in earth orbit. Captain Bean has flown 27 types of military aircraft as well as many civilian airplanes. He has logged more than 7,145 hours flying timeincluding 4,890 hours in jet aircraft. Captain Bean retired from the Navy in October 1975 but continued as head of the Astronaut Candidate Operations and Training Group within the Astronaut Office in a civilian capacity.
Bean resigned from NASA in June 1981 to devote his full time to painting. He said his decision was based on the fact that, in his 18 years as an astronaut, he was fortunate enough to visit worlds and see sights no artists eye, past or present, has ever viewed firsthand and he hopes to express these experiences through the medium of art. He is pursuing this dream at his home and studio in Houston.
---
LEROY R. GRUMMAN AWARD - Daniel Kearns
Mr. Kearns is a graduate of Villanova University (B.S., Economics-1989) and holds supplementary education certificates from The New York Institute of Finance.
As a part time employee, Daniel spent his school recess periods working at B. H. Aircraft Company between the ages of 16 and 22 years. During this tour of duty, Mr. Kearns held numerous direct labor and office positions.
Upon completion of undergraduate studies, Mr. Kearns joined aerospace leader Grumman Corporation (now Northrop Grumman Corporation) in 1990 as a contract administrator under the F-14 Tomcat Program.  In this capacity, Mr. Kearns gained an education in Federal Acquisition Regulations (FAR) and performed proposal preparation and negotiation efforts in association with F-14D, F-14D(R) and F-14 Quick Strike configurations.
Mr. Kearns joined B. H. Aircraft Company as a full time employee in 1994 as Contracts Manager and was promoted to Vice President in 1997.  In 1999, he was appointed as Executive Vice President.
Mr. Kearns serves on the Board of Directors of his company and Production Cable Industries (Bohemia, NY), and is an active member of the Aerospace Industries Association (AIA).
---
DONALD E. AXINN COMMUNITY SERVICE AWARD - Arthur J. Molins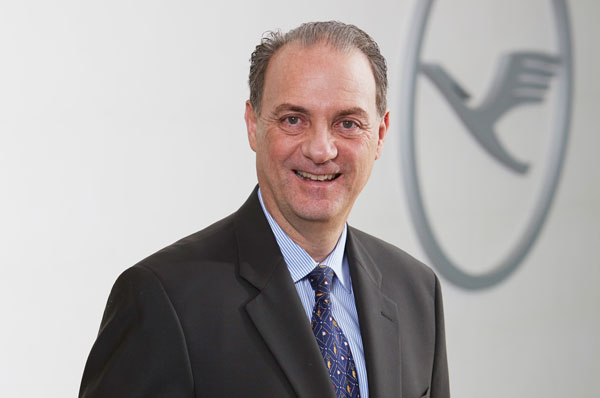 Mr. Molins is the General Counsel for the Lufthansa Group for the Americas and is in his 36th year with the Company. He leads a team that provides all of the legal and regulatory services to the Lufthansa Group, including Lufthansa, Lufthansa Cargo, Swiss, Brussels Airlines and Austrian Airlines in the Americas.
He attended St. John's University in New York where he received his bachelor's degree in Political Science with honors in 1977. Mr. Molins attended the St. John's University School of Law and received his Juris Doctor Degree in 1980. He received a Masters Degree from the University in Public Administration in 1982.
Mr. Molins was admitted to the practice of law in the States of New York and New Jersey in 1981. He was in private practice for 2 years with a general commercial practice law firm in New York.
Mr. Molins joined Lufthansa German Airlines as a staff attorney in 1982 at Lufthansa America's Headquarters in East Meadow, Long Island. In 1988, he was appointed as the General Counsel. Arthur and his legal team provide a broad range of services to the Group, including commercial transactions, aviation law, corporate matters, real estate, regulatory matters, industry affairs and employment law. He had a leading legal role in the in the development of Lufthansa's alliance relationships in the Americas and participated in the initial formation of Star Alliance. He has actively participated in the development of various international airport-terminal projects and airline-consortiums throughout the United States.
He is a member of several Board of Directors of Lufthansa Group subsidiary companies in North America, including its Arizona based pilot school, Lufthansa Flight Training USA, Inc.
In the early 1990's, he was part of the team that spearheaded the development of Terminal One at JFK and the formation of the airline partnership, Terminal One Group Association, L.P. which financed, constructed and operates Terminal One at JFK Airport. He has served as a Managing Director of the Terminal One Group since the Terminal opened in May, 1998. He is also a member of the Executive Committee of the JFK Airline Affairs group and active in JFK community affairs. In 2016, Mr. Molins was awarded the "JFK Man of the Year" by the JFK Lady of the Skies for his leadership role and community service at JFK Airport.
Arthur and his family emigrated from Cuba to the United States in 1961 and settled in Flushing, Queens. Married for 33 years, Mr. Molins resides in Manhasset, Long Island and is the proud father of two daughters. He actively supports various charitable foundations in the New York and Pennsylvania areas. Enjoys sports enthusiastically but passionate about baseball.