Narrated by Tom Hanks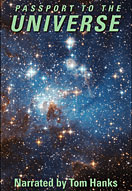 Passport to the Universe
Taking audiences on an unforgettable voyage of billions of light-years, Passport to the Universe is an incredible journey from our home planet and the Milky Way galaxy to the edge of the universe. Audiences fly beneath the rings of Saturn, into the heart of the Orion Nebula, and out into the vastness of the observable universe, experiencing these and other stunning cosmic destinations as never before possible. Using real science and cutting-edge technology to create immersive experiences that educate and inspire, Passport to the Universe is an unprecedented virtual tour that takes audiences to the limits of the universe and back again.
Narrated by Tom Hanks.
Passport to the Universe was developed by the American Museum of Natural History in collaboration with the National Aeronautics and Space Administration (NASA).
"Science has finally caught up with science fiction."
– The New York Times
"The experience is literally like nothing on Earth. Who would have thought that astrophysics could ever set your heart racing?"
– The Daily News
Lewis & Clark: Great Journey West - Dome Film
Shackleton's Antarctic Adventure - Dome Film