Where else can you find Grumman and Republic t-shirts, custom WWII dog tags and freeze-dried ice cream all in one place?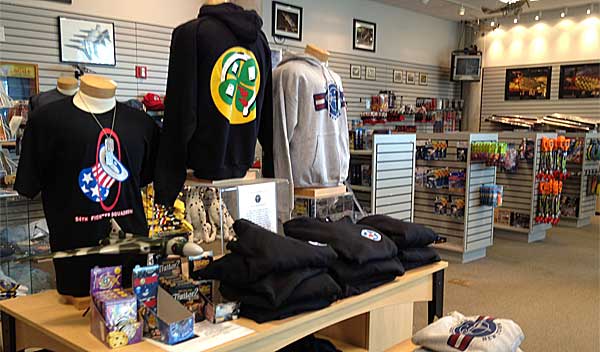 No trip to the Cradle is complete without a visit to our museum store, the Mitchel Field Outpost. Stop in and browse the unique collection of gifts, clothing, books and souvenirs.
Visit
Hours
Open Tuesday-Sunday, 9:30-5:00
Open Mondays that fall on Holidays
Summer Hours
Beginning Monday July 3, we are open 7 days per week through Sept. 4.
Admission Rates
Museum
Adult $15
Child/Senior* $13
Museum includes aviation museum galleries and Junior Jet Club
Planetarium & Dome Theater Shows
Adult $9
Child/Senior* $8
Museum and Show Combo
Adult $20
Child/Senior* $18
Combo includes the museum and a single Planetarium or Dome Theater show.
*Children ages 2-12, Senior Citizens 62+, Military Personnel, Volunteer Firemen & Non-Ambulatory Visitors
Other Options
Junior Jet Club $2.50
Nunley's Carousel $2
Cradle of Aviation Museum
Charles Lindbergh Blvd.
Garden City, NY 11530
--
---