Planetarium and Dome Theater
Our immersive planetarium and full-dome theater is one of the largest and most powerful virtual reality experiences in the world!
80s Horror Arcade, Karaoke & Costume Party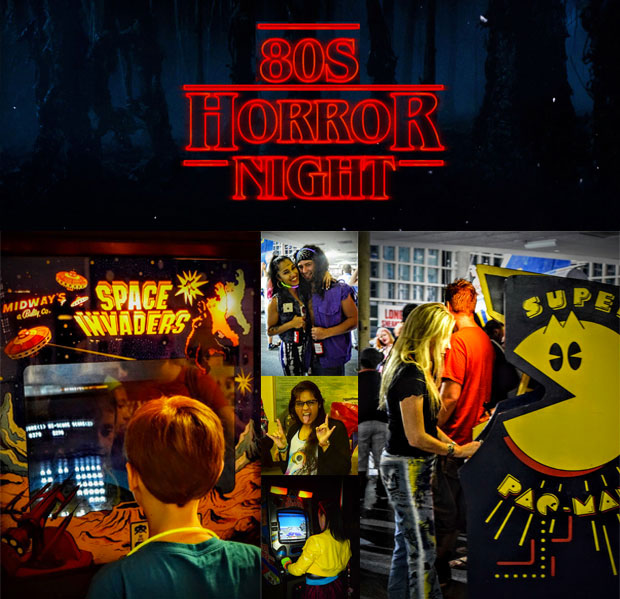 Darkness descends upon the Cradle of Aviation this October on Friday the 13th for an all out Halloween costume party. All manner of ghouls and ghosts are invited to join us for 2 floors of 80s horror with a costume contest, karaoke, dancing, and dozens of spooky video game classics.
Relive the glory days of the 1980s while playing classic arcade games like Pac-Man and Donkey Kong and singing your hearts out to '80s karaoke music. No need to bring quarters as games are all set to free play, but please do bring the big hair, acid-washed jeans, shoulder pads, and Members Only jackets. In addition to the arcade games, there are over 60 classic consoles from the 70s through the 90s so you can play all your retro favorites like Pong and the Atari 2600 all the way through to the Nintendo 64.
We will have Overwatch and Tekken 7 tournaments and the team from the Long Island Retro Gaming Expo will be here to hold a Tetris tournament!
- Play Games on Over 60 Classic Consoles and Over 30 Arcade Machines
- We've loaded up our consoles with some spooky classics
- 80s Karaoke
- Overwatch, Tekken 7 and Tetris Tournaments
- 80s Horror Costume/Cosplay Contest
- $1 Raffles - win a PS4 and a copy of Friday the 13th The Game - Drawing same night!
- Cash Bar
$10 advance tickets, $15 at the door!
Advance sales have closed, please purchase tickets at the door!
More information about the exhibit can be found here: From the Arcade to the Living Room