Planetarium and Dome Theater
Our immersive planetarium and full-dome theater is one of the largest and most powerful virtual reality experiences in the world!
Magic: the Gathering - A Modern and Vintage Event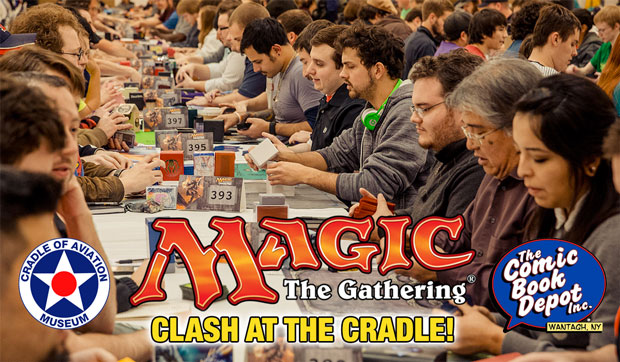 The Cradle of Aviation Museum and The Comic Book Depot presents
Clash at the Cradle: A Modern and Vintage Magic the Gathering Event!
Sunday April 30th, 9:00am-8:00pm
9:00am check-in, 10:00am players meeting, 10:15am round one begins!
Cradle of Aviation Museum, Charles Lindbergh Blvd., Garden City NY, 11530
Competitive rules enforcement level (REL) with deck list required for both events. There will be one level 2 and one level 1 judge for both events. There will be dealer tables, prizes and side events. Please have your DCI number and decklist ready at check-in.
What is Magic: the Gathering?
Magic is a tradable card game where you build your collection of cards by trading with your friends, assembling decks of cards, and battling against an opponent and their deck. You cast powerful spells and summon monstrous creatures aiming to knock your opponent down from 20 life to zero. The game is constantly changing as new cards are released throughout the year. As you get new cards, whether from these new sets or through trading with your friends, you can continuously update your decks and discover a whole new game!
Event Details:
Modern: EE Gold Event
Run by the Cradle of Aviation in the Museum's Atrium
$35.00 Pre-registration, $40.00 at the door if available
Pre-register for Modern here via the "Register Now" button on this page.
Prizes (with minimum of 50 players)
1st place - 3 sealed booster boxes of Modern Masters 2017 + 100 EE Points and a Winner's Trophy
2nd place - 1 sealed booster box of Modern Masters 2017 + 50 EE Points
3rd and 4th place - 12 packs each of Modern Masters 2017 + 25 EE Points
5th-8th - 6 packs each of Modern Masters 2017 + 10 EE Points
For every additional 10 players another sealed booster box will be added to the prize pool. If we have 75+ players, prize support will be added for 9th-16th place and after 120 players, 17th through 20th place.
--
Vintage: EE Gold Event and a NYSE Qualifier
Run by The Comic Book Depot in the Museum's Red Planet Cafe
$60.00 Pre-registration, $65.00 at the door if available
Pre-register for Vintage here: https://www.paypal.me/TheComicBookDepot/60
Prizes (with minimum of 50 players)
1st place - an unlimited Mox Sapphire + 100 EE Points, a Winner's Trophy and a NYSE invite
2nd place - Bazaar of Bagdad + 50 EE Points
3rd and 4th place - revised Underground Sea + 25 EE Points
5th-8th place - revised Tundra + 10 EE Points
If 60+ players, 9th-12th place gets $75.00 Comic Book Depot credit
--
For more details, please visit the Comic Book Depot's facebook event page here: https://www.facebook.com/events/1322563591133595/
For vendor table opportunities, please contact Seamus Keane at skeane@cradleofaviation.org