Planetarium and Dome Theater
Our immersive planetarium and full-dome theater is one of the largest and most powerful virtual reality experiences in the world!
Apollo 17 Dinner & Panel Discussion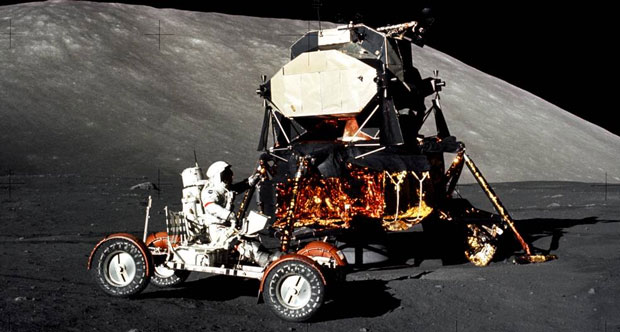 THE CRADLE OF AVIATION MUSEUM CELEBRATES
The Last Mission to the Moon...Apollo 17
Dinner and Panel Discussion with Apollo Astronaut Harrison Schmitt, NASA Flight Director Gerry Griffin and University of Notre Dame Professor Clive Neal.
On Wednesday, April 26th, the Cradle of Aviation is honored to host an Apollo 17 dinner and panel discussion with Apollo Astronaut and Lunar Module Pilot Harrison H. Schmitt; NASA Flight Director Gerry Griffin and Professor Clive Neal, University of Notre Dame. Apollo 17 was the first night launch of a U.S. human spaceflight and the final manned launch of a Saturn V rocket, last use of the Lunar Module (LM) and also the third Lunar Roving Vehicle (LRV). Commander Gene Cernan and LM Pilot Harrison "Jack" Schmitt spent just over three days on the moon in the Taurus-Littrow valley and completed three moonwalks taking lunar samples and deploying scientific instruments. Schmitt was the first geologist in the Apollo program. Sadly, Gene Cernan passed away on January 16, 2017.
Tickets $100 per person - reserve your seat by calling Reservations at 516-572-4066, Monday through Friday from 10 am-4 pm.
For more information, please call Carol Nelson at 516-572-4026.