Planetarium and Dome Theater
Our immersive planetarium and full-dome theater is one of the largest and most powerful virtual reality experiences in the world!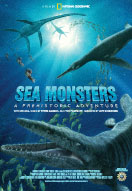 Sea Monsters: A Prehistoric Adventure
Sea Monsters will transport you 82 million years back in time to the Cretaceous period when an extraordinary diversity of marine life populated vast ocean waters. Over the millennia, changes in Earth's climate and geography have left ancient seabeds dry, revealing fossil evidence of this extraordinary—yet little known—time. In Sea Monsters: A Prehistoric Adventure, the scientific process comes alive as discoveries from around the world are woven together to reconstruct the complex puzzle of this prehistoric world.
Narrated by Liev Schreiber, 40 min.