Planetarium and Dome Theater
Our immersive planetarium and full-dome theater is one of the largest and most powerful virtual reality experiences in the world!
February Break "Make-A-Mario"— Retro Video Game Celebration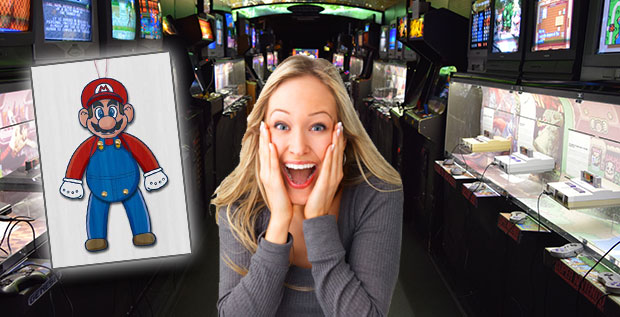 This February Break, come in from the cold and warm up next to the video games at the Cradle of Aviation Museum's newest retro video game exhibit, From the Arcade to the Living Room and then visit the family activity table and make a Mario or Luigi jumping jack craft puppet to take home.
From the Arcade to the Living Room explores the evolution of video game technology through exhibits and game play. From the early 70s black and white tennis games to the fully immersive 3d environments of the late 90s, come explore the history and progression of video games and their characters. Play hundreds of titles on over 60 home consoles all on old school TV tubes and over 30 arcade classics such as Pac-Man, Donkey Kong, Street FighterII and more!
"Today's generation of children do not remember a time without video games," says Kevin Hershfield, the museum's Education Coordinator. "With that experience and a newfound appreciation about video game history and creation, who knows, maybe a young visitor to the museum will become a pioneer in video game development or computer science in the future."
After breaking the high score and saving the princess, young visitors and their families are invited to the museum's Family Activity Table to create and take home their very own Super Mario character!
Family Activity Table activities are free with museum admission.
Admission to the video game exhibit is $25 for adults and $21 for children (2-12) and includes full admission to the museum.
Museum admission without the video game exhibit is $15 for adults and $13 for children.