Girl Scout Programs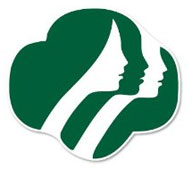 Girl Scout programs at the Cradle of Aviation include Journey Awards and Skill Building Badges for Cadettes, Juniors, Brownies, and Daisies.
Programs are 1.5 hours, 2 troop leaders required and admitted free for all programs. A minimum of eight scouts are required for all Girl Scout programs.
Sorry, non-scout siblings are not allowed in Scout programs.
Cadettes
SKILL BUILDING BADGES
Night Owl
Explore the night sky, learn about constellation legends, and make a star finder. Experiment with glow in the dark and fluorescent objects. Discover the dark world of bioluminescent creatures. $16/Scout.
Juniors
JOURNEY AWARD
Get Moving!
Earn the ENERGIZE award by exploring different forms of energy. Investigate renewable energy sources and find out how energy is conserved on Earth and in space. Start to earn the INVESTIGATE award by planning how to improve energy use. $16/Scout.
SKILL BUILDING BADGES
Entertainment Technology
What's the science behind sound and animation? Investigate the physics of roller coasters, make a flip book, a guitar, and your own 3-D glasses! $12/Scout.
Detective
Can you solve a mystery at the museum? Analyze fingerprints, decipher secret messages, and look at clues closely under a microscope. $12/Scout.
Brownies
JOURNEY AWARD
WOW! Wonders of Water
Earn the LOVE Water award by exploring the science of water, the water cycle, and rainbows. Discover how water is conserved by astronauts! Start to earn the SAVE Water award by building an aquifer and a rain gauge. Begin to plan how to protect water on our blue planet. Each scout must bring an empty, clean 2 liter soda bottle. $12/Scout.
SKILL BUILDING BADGES
Home Scientist
How can you find chemistry in the kitchen? Play with static electricity, create a chemical reaction, and make a slime polymer! $12/Scout.
Inventor
Discover important inventions in the history of aviation. Check out some women inventors, brainstorm your own ideas, and make your own invention! $12/Scout.
Daisies
JOURNEY AWARD
Use Resources Wisely
Daisies will discover what it means to recycle and why it's important! They will learn how they can recycle things in their own neighborhood, how nature recycles, and how they can cut down on garbage. Each scout will make and bring home a flower seed planted in a small pot made of biodegradable materials. Seeds can be watered with recycled rain water. $12/Scout.
Want to learn more about the Girl Scout programs? Please use the form below or to make a reservation, call 516-572-4066 (M-F, 10-4).