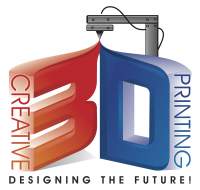 3D printers are desktop manufacturing machines that "print" physical objects out of plastic and other materials. This 15 hour course will provide teachers of all grade levels and subjects with an introductory hands-on experience so that they can weave digital 3D designing and 3D printing into their respective curricula.
This introductory course will enable participants:
To understand the S.T.E.A.M. applications of 3D Design and Printing
To address NGSS and Common Core standards, as well as interdisciplinary applications that will create a lot of "buzz" and excitement in September
To be granted full access to our digital library of resources
To be awarded with a certificate of completion signed by both Creative 3D Printing Inc. and the Cradle of Aviation Museum
To receive a voucher worth $350.00 toward free training if the school (or participant) purchases 3D Printers or 3D Scanners from Creative 3D Printing Inc.
Participants are required to bring their own laptop, with wireless capability, to this class with an email address for website registration purposes. A tablet or smartphone is optional.
The cost of this class is $750.00 which covers all material expenses and 3D creations. The course will be held Monday, August 11th to Friday, August 15th from 9:00am - 12:00pm.
To secure your seat, please call Pete at 516-314-6101 or Jon at 718-300-3342.