Museum Outreach
Choose from any of our Museum Classes to make learning come alive for children and adults in a variety of settings from schools, libraries, camps, scout meetings to community centers. Led by museum educators, all programs use hands on demos to promote the museum's philosophy of inspiring and educating while entertaining.
Outreach programs for schools are age appropriate and designed to address NYS Learning Standards. To find out more, book a program, or even create customized activities call 516-572-4035.
---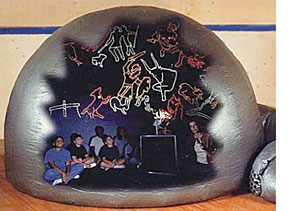 Have STARLAB - will travel!
In addition to our museum classes, you can also have our Starlab come to you!
Starlab is a portable, inflatable planetarium dome that accommodates up to 30 students. The inside surface has an aluminized reflective coating designed to clearly display bright images. Its unique design, kid-friendly entrance tunnel and portability make it ideal for interactive, hands-on, minds-on learning.
Starlab 50 minutes, grades 1-12
Learn all about the current night sky and the beautiful stars that create it while
listening to the exciting stories behind them. Some are of Queens, Indians, hunters and dragons while others are about dogs, bears and lions! You will even learn how to tell a stars age and temperature when you enter into this portable planetarium.
Mathematics, Science, and Technology: Standards 3, 4, 5, 6, 7 English Language Arts: Standards 1, 4 Career Development and Occupational: Standards 2 The Arts: Standard 4 Social Studies: Standards 1, 2, 3,
---
Nassau County Outreach Pricing
Base 45 minute program - $350
Base 45 minute Starlab program - $450
Additional 45 minute same-day programs - $50
Please call for outreach pricing in Suffolk, Queens and Brooklyn counties.